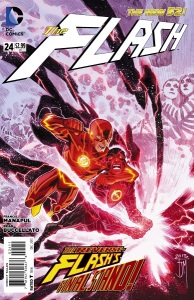 The New 52 version of the Reverse-Flash has proven to be as powerful a villain as Barry Allen has ever faced.  Daniel West has gained enough Speed Force energy to finally go back in time to "set things right"…by killing his father!  Can Barry stop him, or will Daniel add one more murder to his list of Speed Force-related victims?  That's where we pick back up in The Flash #24!
LIGHT SPOILERS ONLY
Daniel finally has his father in his sights…but he is also in plain sight of his younger self and his sister Iris! This should be Daniel's moment of triumph, but everything seems to be falling apart here.  It's up to Barry to try and set things right…and how he goes about it is something you'll have to grab the issue to find out.  This issue has so much more, though…
In many respects, this issue is a valedictory address for Manapul and Buccellato.  They have one more issue together, set in Batman's Zero Year (then three more issues with Buccellato as writer) – which means this is their last issue together with Barry in costume as the Flash.  We see once more how "Moving Forward" has been so critical to all of Barry's storylines in the New 52 – both as The Flash and in his own personal life.  And, we are treated to some classic M&B visuals of the Flash, leading up to a great last panel that brings everything full circle visually for their time on The Flash.   While I will miss their work together on my favorite superhero, I am glad to get this resolution to the Reverse-Flash storyline…and to know that we do get at least one more issue from this great team before we say goodbye (and hello to their work on Detective).
Share