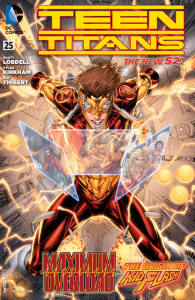 The New 52 Bart Allen has a dark secret, one that is finally coming to light as we prepare for the "Trial of Kid Flash" in Teen Titans #25.  But, just what DID he do…and how did he end up in our present time?  There's a LOT more to this story, and that's where we pick up with the latest issue of Teen Titans.
LIGHT SPOILERS ONLY
Kid Flash and Solstice have ended up where things began for Bart Allen, or rather, Bar Torr – in a place described as "a squalid corner of the universe known as the Backlands."  Bart and Kiran are in serious danger, and Bart's reaction brings him to the breaking point.  As the rest of the Titans finally catch up, the Echo Chronal authority arrive and place Bart under arrest.  It seems that Bart has been in a chronal version of the witness protection system – but from what?  The truth is just beginning to be revealed, and a lot of shockers are still ahead for us.
Scott Lobdell is setting up a terrific storyline as we begin to unfold the mysteries that have surrounded Kid Flash since the beginning of the New 52.  There are a lot of layers left to be uncovered here, and I'm looking forward to how this arc will affect not only Bart but also the Titans as a group moving forward.  The artwork from Scott McDaniel on breakdowns, Tyler Kirkham on pencils, Art Thibert with inks and Arif Prianto on colors is excellent throughout, with great page layouts, spot-on expressions and terrific action sequences.  No, this isn't your pre-Flashpoint Bart…but if you want to find out who THIS Bart is…and what he has done…this arc of Teen Titans is a must-read.
Share