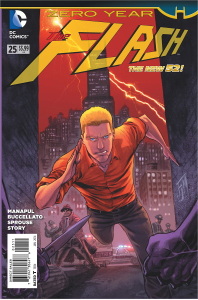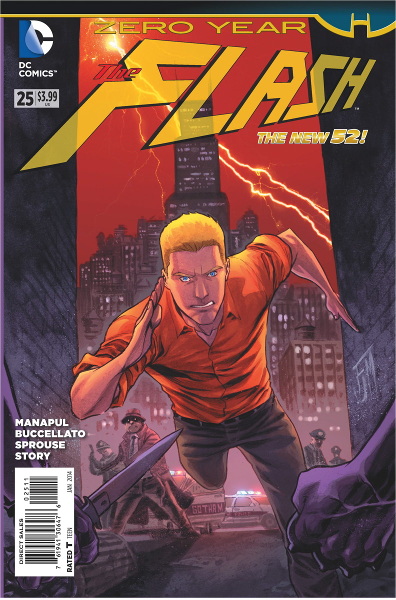 The "Zero Year" arc edition of The Flash finds a younger, pre-Flash Barry Allen on the streets of Gotham…and he isn't the only citizen of the Gem Cities hanging around these mean streets.  Manapul and Buccellato give us one last great story before their own move to Gotham City, complete with one "beginning" we see in this issue for the first time anywhere!
LIGHT SPOILERS ONLY
The call for help has gone out from Gotham to law enforcement agencies across the country, and new Central City Police Academy graduate Barry Allen is one of those who has answered the call!  Barry has been assigned to Harvey Bullock and his partner Spencer.  Together, they are tracking down a very dangerous street drug called Icarus, one that eventually causes it's users to explode into flames!  If you want a quick lesson on the differences between Gotham and Central City, just watch the ways Barry and Bullock approach the situation here.  While investigating, they meet up with another Gem Cities native who is working as an intern with the Gotham Gazette…Iris West!  Yes, in this issue we get the New 52 first meeting between Barry and Iris…and it is every bit as awesome as any Barry/Iris fan could ever wish.
This last issue for the team of M&B was a bit of an interesting choice in that Barry hasn't had his lab accident "yet" and therefore can't put on the familiar red and yellow uniform.  Still, The Flash #25 provided a great back story for Barry himself, one well worth checking out even if it weren't the last time Manapul and Buccellato are paired together on The Flash (Buccellato will script some additional issues before M&B take on Gotham in the pages of Detective Comics).  And, just a note for fans looking for that familiar hidden "DC Comics Proudly Presents The Flash" on the title page…you won't find it there (it features the main "Zero Year" format)…but you won't be disappointed either, just keep looking.
I have been a fan of Francis Manapul's and Brian Buccellato's work from the beginning, and while I wish them both the very best for their run on Detective, I will miss what they have brought for the last 2+ years to my favorite superhero here in the pages of The Flash.   The next team will have some rather large yellow boots to fill.
Share