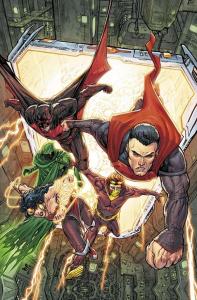 Just a quick note this morning.
"Three Ghosts," the mid-season finale of Arrow, and part two of Barry Allen's reintroduction to live-action TV, airs tonight on CW.
Justice League 3000 #1 arrives in stores today, featuring a future Superman, Wonder Woman, Batman, Flash and Green Lantern.
Digital back issues of the 1987-2008 Flash series seem to have settled in on a monthly schedule. Flash #158 is now available on ComiXology. Wally West, his alternate universe counterpart Walter West, and their allies must stop Abra Kadabra and Replicant. It's the second to last issue of the Dark Flash saga, and we're closing in on the end of the well-regarded Waid/Augustyn run on the series.
Share