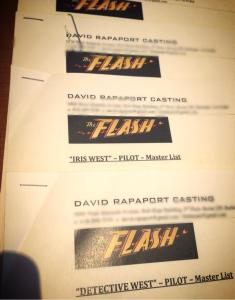 David Rapaport Casting tweeted a glimpse at some of the casting sheets for the Flash TV pilot yesterday, including Iris West and Detective West. The presence of Iris no doubt thrilled a number of long-time Flash fans, especially considering how quickly she was written out of the 1990 TV series, appearing only in the pilot episode. Detective West, however, was a mystery.
Was.
Bludhaven Banter has posted a scoop: the character descriptions. I'm not familiar with the site, but Flash TV News vouches for them based on previous scoops for Ant-Man.
Potential spoilers below.
.
.
.
Detective West is a blue-collar cop who took Barry in after his mother's death. Iris is his daughter, a grad student in psychology, and Barry's "mile a minute, fast-talking, quick-witted best friend." CW is looking for African-American actors for both roles. Head over to Bludhaven Banter to read the full descriptions.
Share