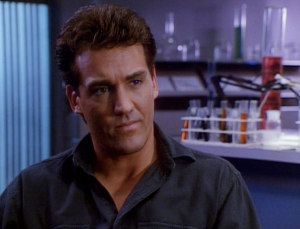 In a surprise announcement, the CW has cast John Wesley Shipp, who played Barry Allen in the 1990 Flash TV series, in the pilot for the new series starring Grant Gustin. Producers are keeping quiet about his role, though if the series is picked up, it'll be a recurring one.
Fans of the old series have been hoping to get Shipp into the new series at some point, though I don't think any of us expected him to appear in the first episode. I think it would be great if he played Jay Garrick, but it seems a bit early to introduce another speedster (especially with "Eddie" Thawne already on board). Alternatively, he might be playing Barry's father, Henry Allen, wrongfully convicted and imprisoned for the murder of his wife.
Photo: John Wesley Shipp as Barry Allen back in the 1990-1991 TV show.
Share