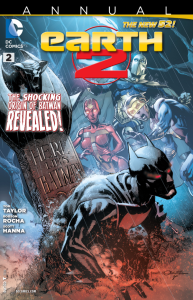 The Batman of Earth 2 died at the beginning of this series, followed more recently by a NEW Batman who seems to know just about everything that Bruce Wayne knew. This is a story that could only be told in the context of an EARTH 2 continuity – but it is a truly powerful story that opens up a world of new possibilities for this excellent series.
SOME SPOILERS AHEAD – SPOILER TAGGED IN CASE YOU HAVEN'T READ EARTH 2 YET
This tale starts back before the events of issue #1, when the original Earth 2 Batman was still alive.  Joe Chill, the man who killed Bruce Wayne's parents, has been brutally murdered.  In fact, he's not the only crook killed in the same manner…which raises the suspicions of Earth 2's Greatest Detective.  The other victims had ties to the Falcone crime family, and in the investigation it becomes clear that Joe Chill was no petty criminal – that he was hired by the Falcone family specifically to kill Thomas and Martha Wayne!
The "why" of this his gives us a very different impression of the Waynes of Earth 2 – and the truth is a shocking revelation to Bruce.  Even so, the biggest shock is still ahead.  He finds that the person going after the Falcone family, brutally murdering them one by one, is…
THE IDENTITY OF THE NEW BATMAN IS SPOILER TAGGED HERE – HIGHLIGHT THE TEXT IF YOU WANT TO KNOW MORE, OR SKIP AHEAD FOR THE REST OF THE REVIEW:
Thomas Wayne!  Somehow he survived and went into hiding, coming back now with the aid of Miraclo (yes, THAT Miraclo), this time in the posession of Rex Mason (known in old continuities as Metamorpho).  Bruce disowns his father…but after Bruce's death, Thomas takes on the mantle of the Bat to honor his son's memory and to gain some measure of redemption, using Miraclo to help his 65-year old body handle the physical demands.
Tom Taylor has put together a powerful tale, and the reveal here opens up a huge amount of possibilities for the series moving forward.  The artwork was right on the mark throughout the issue, with pencils by Robson Rocha, inks by Scott Hanna, and colors from Pete Pantazis.  One note – this is the culmination of a big build-up for the new Earth 2 Batman, so it is somewhat understandable that the Annual is almost 100% Bat-centric.  Still, I would have loved to see a little more from the other Wonders (in other words, no Jay Garrick past the cover) – but given the quality of this story that's not a major complaint.  No matter what you thought about who the new Batman would be, this story still manages to surprise and amaze – all in all a great issue!
Share