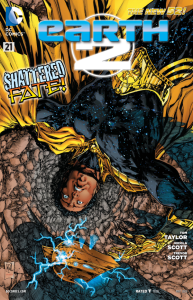 Things are only getting worse for our Wonders and the World Army.  The Superman of Earth 2, under Bedlam's control, seems unstoppable as he cuts a path of destruction through the entire planet.  The few Wonders remaining try to formulate a plan…but are they already too late?
LIGHT SPOILERS ONLY
The Atom finds that he is no match for Superman, who uses his heat vision to cut off Atom's arm…and then uses that arm to beat Atom into submission!  Yes, this is a Superman who knows no bounds and is completely under the control of Bedlam.  While the new Batman, Lois (now Red Tornado) and the others try to formulate a plan, Bedlam has a plan of his own…and even more people under his control!  This issue is full of death and destruction, and hope is very slim for our Wonders.
Tom Taylor continues to up the ante with this script…just when you think things can't possibly get any worse, something even more horrible happens in this tale of disaster.  If you ever wondered how bad things could get if Superman turned into a bad guy, here's your proof.  For followers of this site, the only complaint is not seeing more of Jay Garrick this issue…but to be fair this is an exceptionally powerful script with tremendous action throughout.  Nicola Scott, Trevor Scott and Pete Pantazis continue to deliver exceptional artwork with this series.  If you like action and high tension in your stories, this is definitely a tale you don't want to miss.
Share