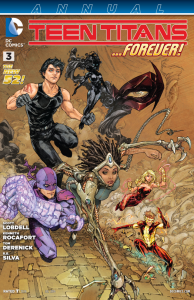 This volume of TEEN TITANS ends where it began, in the ultimate battle with Harvest!  The Titans find that Harvest's plan is even more convoluted (and diabolical) than they had even dreamed.  Can they defeat this threat…can they even survive?  That's where we join the Teen Titans for one more adventure in their current incarnation, in TEEN TITANS ANNUAL #3!
LIGHT SPOILERS ONLY
The tale begins with what appears to be a final message to the world from Red Robin, recounting how they came to this point.  First was the discovery that Harvest was establishing a new colony in Africa.  The team bands together for one more fight, but upon arriving they find something very, very strange…a lot of supposedly dead friends who are very much alive!  Just why they are alive, and what happened to them, is part of the madness of Harvest's plot, and the battle that follows is huge.  This story continues through the battle, to give us "what happens next" for each of the Titans, including a brief cameo for Kid Flash and Solstice.  I won't spoil it for you here…but this story ties up all the loose ends from this volume and sets a course for future creators to pick up the tale.
Scott Lobdell's tale of the Titans comes to an end with this Annual, giving us one last battle with a very powerful villain in Harvest.  I'm glad Lobdell was given the opportunity to wrap up this tale, and the battle was a great one to watch.  The wrapping up of "here's what happened to each player" afterward was a bit rushed, but does leave plenty of room for the future Titans team to pick things up when they return this summer. The art was provided by Kenneth Rocafort (who will also be part of the relaunch this summer) along with RB Silva and Tom Derenick, with inks by Vicente Cifuentes and colors by Blond and Hi-Fi.
Your thoughts about this volume of TEEN TITANS will depend in no small measure on your opinion of the New 52 in general.  There were significant changes handed to Lobdell and company upon launching this tale – no prior Titans team, Red Robin never being "just Robin", new origins for several characters, changes to the future/history of Kid Flash.  Those changes to continuity created quite a bit of debate, including comments from fans on this site. As for me, I've tried to take the New 52 at face value and judge the stories on their own merits – and the series did grow on me over time.  Like a lot of Flash fans, I was saddened by what happened to the characterization of Kid Flash, and I wish he had been left in a much better place.  Still, I will miss some other gems of the series, like the development of Bunker as a character.  Hopefully, the new team will pick up the best of this series as they take on yet another new volume of TEEN TITANS.
Share