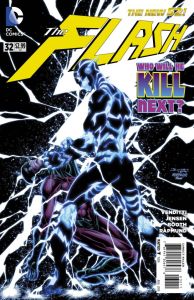 This issue of THE FLASH may not reveal everything that is coming down the road for Barry, Wally, and company…but one thing is certain.  Change IS coming, for Barry's personal life, for his work at THE FLASH, and for at least one more Rogue!  Want to know more?  Read on…but remember we still give…
LIGHT SPOILERS ONLY
This tale begins twelve years from now, in a hospital room in Central City, where one of our best-known Rogues is in his last hours.  Was he put there by the Flash, by his own actions, or is there some other reason to find him there?  Whatever the reason, he does have a special visitor…Future Barry, stopping by on his way to our time!  In the present time, Barry is still tracking down whoever it was that stole all those special weapons out of the Central City Police Department Evidence Locker Room…to find that the person holding them has found some very interesting uses for those weapons!  Afterward, Barry and Wally…and someone else…go to a baseball game in an attempt to establish a connection.  What happens next with Wally?  You'll have to grab the issue to find more.
Without giving too much away, Wally's initial reaction to baseball mirrors the reaction my own adult children have shown when I've tried to drag them to a game, and it is the perfect way to show the generational difference between Barry and Wally.  We also see more of the psyche of future Barry and why he is on his way back to our time.  This is a Barry Allen who is just as broken as the Speed Force itself, and I can't wait to see what happens when he gets to our time.
Robert Venditti and Van Jensen give us a little more of the new Wally in this issue, though a full Wally-centric issue is still in the future.  They are juggling several story threads well, not giving too much away in any one thread but instead giving the reader the feeling that all this is coming together soon for something truly big.  As for the artwork, I'll say once again that I'm a fan of Brett Booth's pencils, and the inks by Norm Rapmund and colors by Andrew Dalhouse were spot on, which brings me to this…has anyone else noticed that the red of present Barry's uniform is getting a bit darker?  I realize that the main scenes for present Barry/Flash are nighttime, but still he has been almost glowing red regardless of the time of day in prior issues.  Could this be some foreshadowing of how Future Barry's look comes to be?  Whether it is or not, the artwork was excellent.
One last note – the featured Rogue in this issue is my personal favorite, and that made this one particularly bittersweet for me.  I'm not sure where this will all end up, but it is certainly a story that has had an impact on the FLASH-verse, and it looks like more significant twists are on the way.
Share