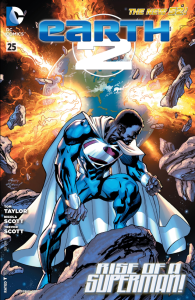 Val-Zod finally joins in the fight, and Jay Garrick plays a major role as new aspects of his power are revealed in the battle to save Earth 2 from the Bedlam-controlled, "Brutaal" former-Superman.  But, are the best efforts of the Wonders too late?  That, and much more are found in this action-packed issue of EARTH 2!
LIGHTS SPOILERS ONLY
This issue picks up with Jay, Alan and Kendra trying to escape Beguiler and an army of Parademons.  Green Lantern can only hold Beguiler off for so long, but Jay Garrick comes to the forefront of the fight as he pushes his own powers to the limit to discover…something approaching infinity.  While this fight goes on, Val-Zod reveals his own backstory to Jimmy Olsen – with some very interesting revelations about his early life.  The former-Superman-now-Brutaal and Lois visit the Kents with some truly disturbing results, as Bedlam's plan to move all of Earth 2 through a Boom Tube is ready to come into place.  Can the Wonders stop Earth 2 from becoming the new Apokalips?  To see more you'll need to grab the issue!
For Jay Garrick fans, this is a very welcome chapter, and the Flash of Earth 2 gets some well-deserved time in the spotlight. Actually, for fans of EARTH 2 this is a great chapter – a fast-paced, action-packed story with significant developments for a number of characters.  There are a couple of truly disturbing moments here – some that will generate a lot of talk for some time to come.  But, this is a series that has taken risks from the very beginning, and what comes next should be pretty much astounding. Thanks to Tom Taylor for another excellent script, and to the art team of Nicola Scott (pencils), Trevor Scott (pencils) and Pete Pantazis (colors) for another beautifully illustrated tale.  EARTH 2 is one of the gems of the New 52 – don't miss out on it!
Share