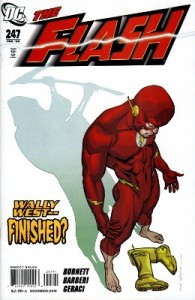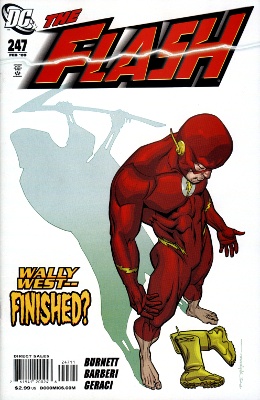 Over the past two weeks, DC has released the last four issues of the Wally West Flash series to their digital backlist, Flash #244-247, featuring the story "This Was Your Life, Wally West." Written by Alan Burnett with art by committee, it pitted Wally against both the Queen Bee and his own mortality.
They're not done yet, though. Up until last month, DC had been working their way through the Geoff Johns/Scott Kolins run, and once it was solid through #200, they jumped forward to the end of the book. Only a handful of issues from Flash #201-230 (most of which is Geoff Johns with Howard Porter and Livesay) are available digitally so far, and I'd expect that's where they'll fill in next.
There's also an odd four-issue gap from #116-119, clipping off the end of "Race Against Time" and the "Final Night" tie-in from Mark Waid's run on the book. Why they skipped those four issues, I have no idea.
So there's another thirty or so issues of the main series to go before it's complete.
Then there's the ½ issue that's a prologue to "Rogue War," three Secret Files, and thirteen Annuals, some of which stand alone and some of which tie into ongoing stories. Not to mention Iron Heights and Flash: Our Worlds at War, both of which tied into the build-up to "Crossfire."
And that's not even getting into stand-alone one-shots like the two Flash 80-page giants, or Time Flies, or, well, Speed Force…
Share