Welcome to the latest installment in our annotations of the collected edition of The Trial of the Flash!  A while back, we analyzed related stories leading up to the release of Showcase Presents: The Trial of the Flash.  In addition, we interviewed author Cary Bates about the buildup and the Trial itself, plus showed you what wasn't included in the collection.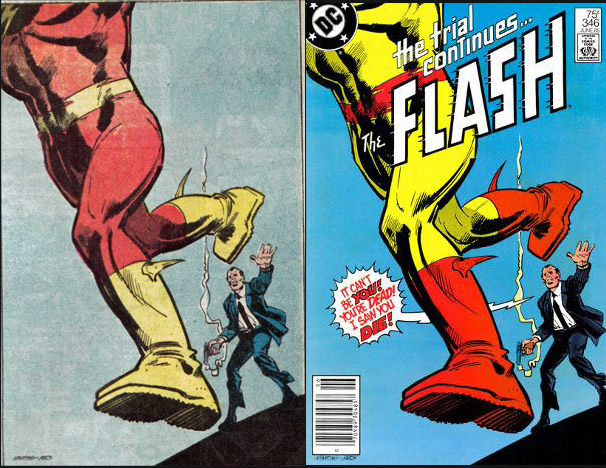 IN THIS ISSUE:  The Flash of Two Faces!

Links to original artwork, scans and research are included throughout this post.  For definitive legal analysis of the story by Bob Ingersoll, go here.  Tom vs. Flash Podcast links here, including these issues.  As always, huge thanks to the DC Indexes. See you after the jump!
COVER by Carmine Infantino and Klaus Janson. As seen last issue, the larger-than-normal "next issue" preview cover showed Flash running from a captionless Captain Frye, leaving the surprise to greet readers in person. Flash's previous appearance on stands was Crisis on Infinite Earths #3, with a note pointing readers to a Flash #350 that was months away.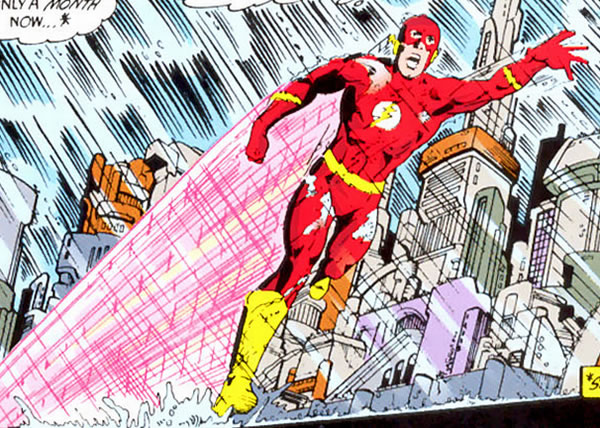 PG 2: "Dead Man's Bluff" brings to mind the Dead Man's Hand in poker and the story of Wild Bill Hickok.
PG 4: Here is a gallery of courtroom sketches from famous trials.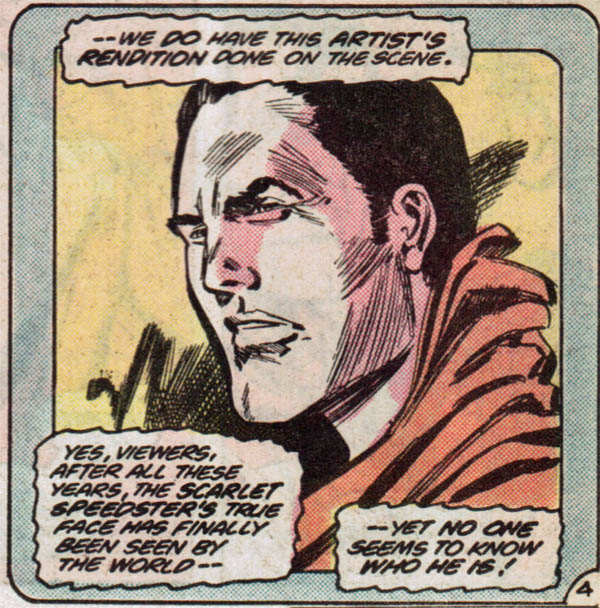 PG 5: This article about smoking in comics notes that Marvel has had a smoking ban in place since 2001. Flash had a public encounter with a Top-possessed Henry Allen in this scene from Flash #303.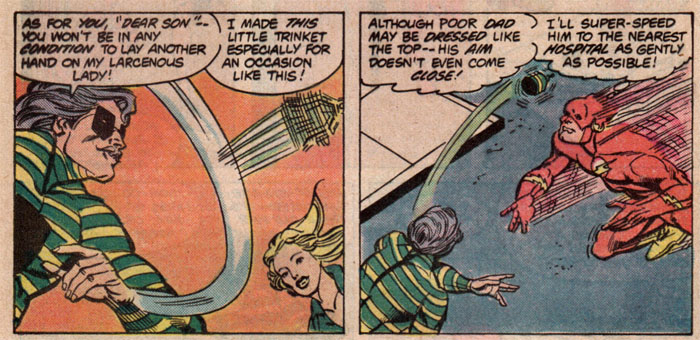 PG 9: The Pied Piper (alias Henry Rathaway, this issue at least) appears to have converted the PA System into a customized Long Range Acoustic Device.
PG 11: Piper was committed to Breedmore Mental Hospital following the events of the "lost issues". There is a real Benson Psychologial Services in North Dakota.
PG 16: Barry's face was changed in Gorilla City in issue #342, via this silent request.
PG 21: The strongest tidal current in the world is the Saltstraumen Maelstrom, and according to this video, "The speed of the stream is estimated to be up to 22 knots or 40 km per hour, and it is about 3 km long." The original art for this page can be seen here, via Comic Art Fans.
PG 22: According to this article about about police pursuits:
In Oakland, Calif., starting this past January, officers can only chase those suspected of violent forcible crimes, crimes involving the use or possession of firearms or suspects who may have a firearm.

That same month, the St. Petersburg Police Department changed its policy and barred officers from pursuing anyone other than people suspected of violent felonies.

Kansas City, Kan. officers can now only pursue a driver if there is "probable cause to believe the violator has committed a felony, or misdemeanor, or traffic violation," according to an April policy change.
The original art for page 23 can be seen here.

See you next weekend!
Share