DC has started announcing the tie-in miniseries for Convergence, the spring 2015 event that will see the new 52 line go on hiatus for two months while we look in on fragments of various other realities tossed together…including the reality formerly known as the DC Universe. The 40 two-issue miniseries will run April and May, along a 9-part weekly Convergence series.
Among the titles revealed at IO9: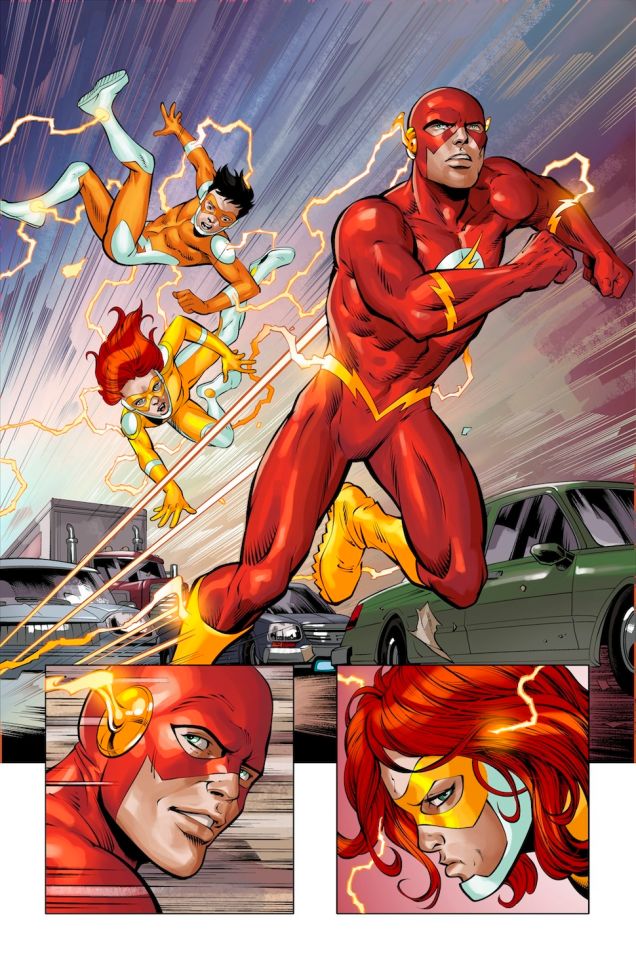 SPEED FORCE
Wally West and his kids are separated from Linda, which was bad enough, but when the dome falls, Flashpoint Wonder Woman comes for them. Tony Bedard (W), Tom Grummett and Sean Parsons (A).
JUSTICE LEAGUE
When Supergirl, Zatanna, and Jade went to Jesse Quick's baby shower, they didn't expect to be taken to another planet for a year, or to be attacked by Flashpoint Aquaman. Frank Tieri (W), Vicente Cifuentes (A).
Wally West and the kids — not just pre-Flashpoint, but pre-Rebirth, it appears — and Jesse Quick. It's been a while.
Update: DC announced Convergence in an article at USA Today last week. Here's how they describe the in-world premise:
Convergence spins out of the April 1 finales of the Earth 2: World's End and The New 52: Futures End weekly series. The alien supervillain Brainiac has trapped cities from various timelines and planets that have ended, brought them in domes to a planet outside of time and space, and is now opening them for a great experiment to see what happens when all these folks meet.

"We're picking up at points of their lives where we left them and finding out what's gone on with them since then," says DiDio.
Share