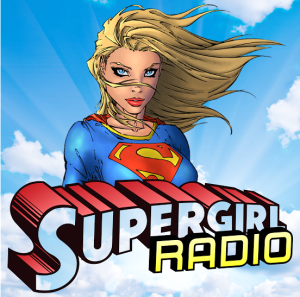 THE FLASH PODCAST LAUNCHES SUPERGIRL RADIO
TUESDAY, FEB 3!
New Fan Podcast Dedicated to the Upcoming Supergirl TV Show on CBS.
______________________________________________________________________
Friday, Jan. 23, 2015 – The Flash Podcast, which launched in December 2013 and was the first fan podcast for CW's The Flash, is expanding its podcast circle with the launch of its first sister podcast Supergirl Radio, on TUESDAY, FEBRUARY 3rd!
Supergirl Radio is a fan podcast devoted to the upcoming Supergirl TV show on CBS, created by Arrow's and The Flash's Greg Berlanti and The New Normal's Ali Adler, and starring Glee's Melissa Benoist as the titular superheroine.
Supergirl Radio will be helmed by female duo: Teresa Jusino and Rebecca Johnson, both of whom have made names for themselves analyzing pop culture individually, and will now be joining forces to celebrate the arrival of Supergirl to television.
This fan podcast will begin with a "Season Zero" – as The Flash Podcast did – from February through September 2015, where listeners will get to join the journey and discover more about Kara Zor-El a.k.a. Supergirl, the last daughter of Krypton. Once Supergirl debuts on CBS, Supergirl Radio will become your one-stop shop for all things related to the series. Andy Behbakht, host of The Flash Podcast, is a producer on the show and will work behind the scenes with our hosts.
Supergirl Radio "Season Zero" will provide an in-depth exploration of Supergirl's history in the DC Comics Universe, dissecting both past interpretations of the character and the current New 52 version throughout the season, with episodes dedicated to iconic storylines and big events that have involved Supergirl. There will also be focus on Supergirl in other media in which she's appeared, from movies to television and much more!
Supergirl is an upcoming superhero drama by Greg Berlanti (Arrow, The Flash) and Ali Adler (The New Normal, Glee, Chuck) that will be a new interpretation of Superman's famous cousin as she discovers the heroine within her. Melissa Benoist (Glee, Whiplash) was cast on January 22 as the next person to take this iconic heroine to the skies.
CBS gave the Warner Bros. TV project a series commitment on September 19, 2014 and describes as following: "Born on the planet Krypton, Kara Zor-El escaped amid its destruction years ago. Since arriving on Earth, she's been hiding the powers she shares with her famous cousin. But now at age 24, she decides to embrace her superhuman abilities and be the hero she was always meant to be."
Site link: supergirlradio.com
Facebook: facebook.com/supergirlradio
Twitter: twitter.com/supergirlradio
Instagram: instagram.com/supergirlradio
E-mail: supergirlradio@gmail.com
Supergirl Radio is a fan dedicated podcast and is not affiliated with DC Comics, Warner Bros. Television or CBS Television. Supergirl & all logos and artwork are trademark of DC Comics and DC Entertainment.
Share