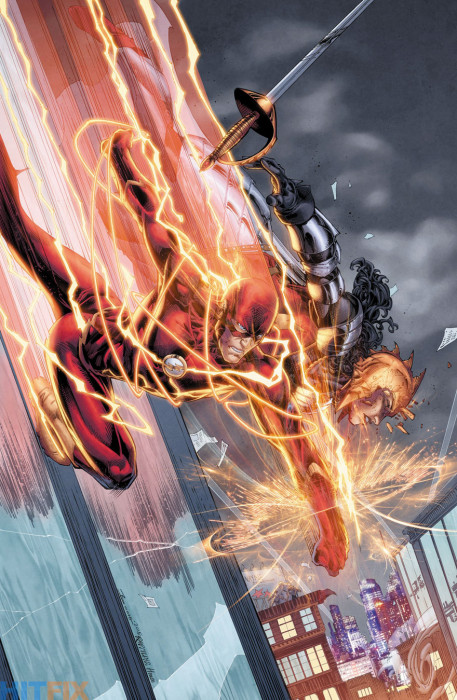 On Tuesday Hitfix revealed five of DC's May 2015 Convergence tie-ins including…
CONVERGENCE: SPEED FORCE #2
Written by TONY BEDARD
Art by TOM GRUMMETT and SEAN PARSONS
Cover by BRETT BOOTH and NORM RAPMUND
Variant cover designed by CHIP KIDD
On sale MAY 6 • 40 pg, FC, 2 of 2, $3.99 US • RATED T

Wally West desperately tries to protect his children and his city from the brutal assault of the Flashpoint Wonder Woman as the next phase of Convergence begins!
For those of you who haven't been following, Convergence is a two-month event in which fragments of various DC eras and alternate realities have been thrown together by Braniac. The whole DC line is going on hiatus for two months, to be replaced temporarily with two-parters focusing on some of these realities, such as this one set in the pre-Flashpoint DC Universe.
DC doesn't appear to be rebooting after Convergence, but they are retooling their line. 25 ongoing series are picking up in June right where they left off, including The Flash, while DC launches 24 new series including solo books for Midnighter, Black Canary, Cyborg and Starfire, retooled Justice League of America and Constantine: Hellblazer, and a lot more.
Share