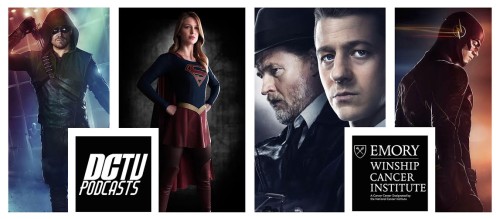 Friday, May 8, 2015 – The DC TV Podcasting Family is teaming up with Winship Cancer Institute to fight cancer on Saturday, May 16, 2015.
The Winship Cancer Institute of Emory University is dedicated to the integration of innovative clinical and basic science research with outstanding patient care for the prevention, treatment and control of cancer. We here at DC TV Podcasts couldn't be more proud to be partnering up with Winship for this very important cause.
Here is how you as a listener can help and participate on Saturday, May 16, 2015 while also enjoying your favorite DC television podcasts for Arrow, The Flash, Gotham and Supergirl.
The podcasting fundraising event will be hosted via Mixlr at mixlr.com/dctvpodcasts and will begin at 11 AM PST/2 PM EST. The event will feature the great minds of DC TV Podcasts with hosts from Quiver: The Green Arrow Podcast, The Flash Podcast, Legends of Gotham andSupergirl Radio. The event will roll from 11 AM PST/2 PM EST into the evening with all four individual shows. The marathon will then conclude with a special DC TV Podcasts Assemble show featuring hosts from all four podcasts.
Here is the following schedule for when all the live shows will begin:
Quiver Podcast at 10 AM PST (1 PM EST) – 12 PM PST (3 PM EST) with Michael Cohen and TBA host.
Legends of Gotham at 12 PM PST (3 PM EST) – 2 PM PST (5 PM EST) with Bill Meeks and Anne Marie DeSimone
The Flash Podcast at 2 PM PST (5 PM EST) – 4 PM PST (7 PM EST) with Andy Behbakht, Amy Marie and Lauren Gallaway
Supergirl Radio at 4 PM PST (7 PM EST) – 6 PST (9 PM EST) with Rebecca Johnson and Special Guest Michael Bailey (Host of From Crisis To Crisis: A Superman Podcast)
DC TV Podcasts: Assemble Show at 6 PM PST (9 PM EST) – 7 PM PST (10 PM EST) with Andy Behbakht, Michael Cohen, Rebecca Johnson, Bill Meeks, Anne Marie DeSimone and more TBA.
Starting today, as well as during the marathon, head over to DCTVPodcasts.com/Fundraiser to find out how you can make a donation to Winship.
We at DC TV Podcasts hope to see you in the live chat and enjoy all the exciting programming that we have in store for you. Nothing would make us happier than our listeners donating to this important and great cause and joining us at DC TV Podcasts in helping the Winship Cancer Institute continue researching ways to defeat cancer.
Any podcasts that are represented on DC TV Podcasts are fan podcasts and are not affiliated with DC Comics, Warner Bros. TV, DC Entertainment, The CW, CBS and FOX.
About Winship:
Winship Cancer Institute of Emory University is located in Atlanta, Georgia. Its history dates back to 1937 and since then, it has earned a reputation of not only being a state-of-the-art facility for cancer treatment, it is also a National Cancer Institute-designated cancer center, allowing for research in the areas of bone marrow transplantation, breast cancer, head and neck cancer, lung cancer, brain cancer, and many others. For more information, please visitwinshipcancer.emory.edu
About DC Television Podcasts:
DC TV Podcasts is a podcast circle that features a collection of high-quality and popular podcasts that are devoted to DC Comics television series including The CW's Arrow and The Flash, FOX's Gotham, CBS's upcoming superhero drama Supergirl and more! Join the hosts of Quiver, The Flash Podcast, Legends of Gotham and Supergirl Radio every week for the best news, commentary and opinions about these comic book shows.
Share