A few months ago, Dan Didio said that "we're leaving every door open" after Convergence. It's easy to read that as suggesting that all those old versions of the characters are now officially out there somewhere in the multiverse….
…except they aren't. Not according to Convergence #8 anyway.
Spoilers for Convergence #8 below
.
.
.
.
A group of heroes retroactively prevents the collapse of the multiverse during Crisis on Infinite Earths. (Off-panel no less, which is a bit anticlimactic.) What follows is two double-page spreads showing us the heroes of several notable worlds in the Multiverse… and what they used to look like. "Each world has evolved, but they all still exist."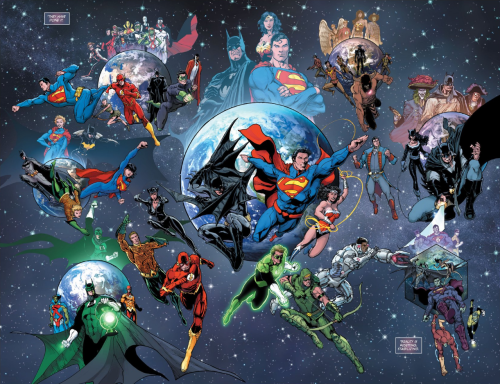 A ghostly view of the pre-Flashpoint trinity appears with the New 52 heroes in the foreground. The Supergirl and Batgirl of Elseworld's Finest have become the Superwoman and Batwoman of Countdown's Earth-11. The pre-COIE Crime Syndicate has become their Forever Evil versions, the classic Justice Society has become the Earth-2 Society, and groups like the Freedom Fighters, Zoo Crew and Atomic Knights have become the versions seen in Multiversity.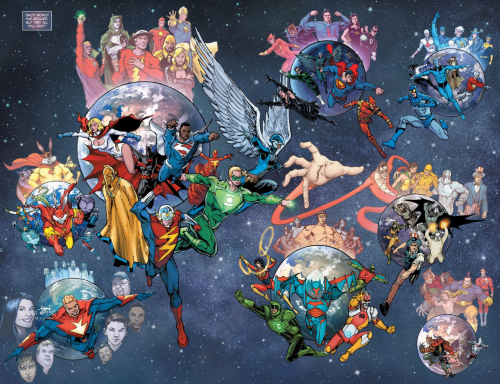 On one hand, that's fine – the current Multiverse has a lot of interesting worlds, and Grant Morrison and the artists of Multiversity did an amazing job showing its potential.
But that also means the older versions of those realities are officially off-limits, since they've been transformed into the current versions.
Pruning the Timeline
One thing that's bothered me about DC's various reboots and adjustments from COIE onward is that they always insist on rewriting their history in-place. It's not enough to establish a new status quo and say, "This is what we're following now. Your old favorites are still out there, we just aren't going to see them." They have to get rid of the old one. No trapdoors or escape hatches.
I figure some of it is the need to have, if not one reality (as Didio points out, they never stopped doing alternate-universe stories even after Crisis), at least one primary reality. Earth-One, New Earth, Earth-Zero, whatever you call it, the (current) main DC Universe is always central to the multiverse.
And some of it, I'm sure, is that when you don't have the option of going back, you have to invest more in what's in front of you now. That applies to the writers and artists all the way down the line to the fans. At least, until that connection finally breaks.
Possibilities
In theory, since they undid the collapse of an infinite multiverse, there must be realities out there that correspond to the previous versions. And while DC's been focused since Countdown on a structured, 52-reality multiverse, there's a line in the Multiversity Guidebook about it being "the local multiverse," implying more realities beyond. So there's nothing stopping DC from doing a classic Justice Society story and having it be in canon somewhere, or having Wally West as the Flash and Bart Allen as Impulse somewhere other than the fame-obsessed Earth-Me.
But the more I look at that article, the more I think Dan Didio wasn't talking about the multiverse at that point. I think he was talking about ideas. Concepts from older versions of the characters that can be brought back and incorporated into the modern versions.
Tweaking elements that didn't fit the initial New 52. Setting stories outside Earth-Zero (like Prez, for instance). Using shared-universe continuity where it helps a story, but not following it too closely when it interferes.
Those are the doors that are all open, not the doors to the older DCU.
Share