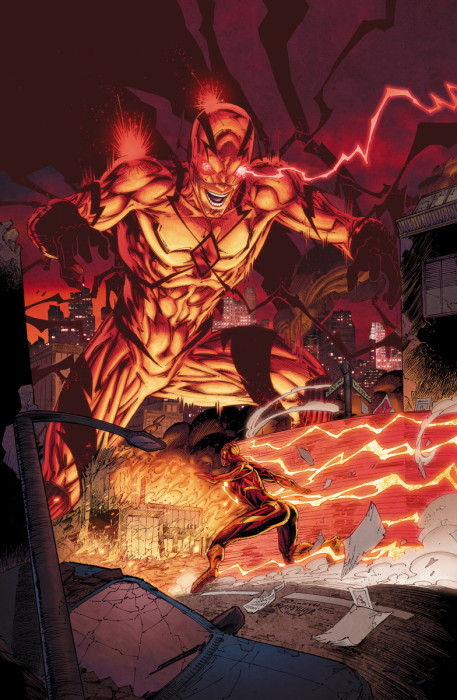 DC's October solicitations are up.
THE FLASH #45
Written by ROBERT VENDITTI and VAN JENSEN
Art and cover by BRETT BOOTH and NORM RAPMUND
Monsters Variant cover by GUSTAVO DUARTE
On sale OCTOBER 28 • 32 pg, FC, $3.99 US RATED T
Assault on Central City! Professor Zoom's attack against The Flash turns personal as Zoom's team targets the Central City Police Department! Barry Allen's closest friends are drawn into the battle, and he'll need the help of some unlikely allies to prevent the destruction of all he holds dear.
Additionally, there's this:
JUSTICE LEAGUE: GODS AND MEN – THE FLASH #1
Written by ROB WILLIAMS
Art by JESUS MERINO
Cover by FRANCIS MANAPUL
ONE-SHOT • On sale OCTOBER 28 • 32 pg, FC, $3.99 US • RATED T
The Flash is forced to take on the role of the Black Racer, harbinger of death! But can anyone escape this unlikely grim reaper?
DC hasn't released a cover, but we now know who's writing and drawing it. The SDCC announcement only mentioned Geoff Johns and a Francis Manapul cover, leading everyone to conclude that Johns was writing the one-shots along with Darkseid War.
Update: The list includes the print editions of several digital-first books, but no sign of a follow-up to Flash: Season Zero. The comic set in the TV continuity wraps up its digital run later this month, with the final print issue and collected edition TP hitting in September. DC might be letting the series rest for a bit, but I think it's more likely they'll launch the next tie-in book digitally in October, when the TV show returns, with the print edition launching in November.
Share