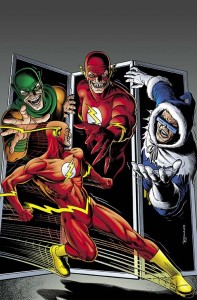 Among DC's upcoming collections:
THE FLASH BY GEOFF JOHNS BOOK ONE TP
Written by GEOFF JOHNS
Art by ANGEL UNZUETA, DOUG HAZLEWOOD, SCOTT KOLINS, JOSE MARZAN, JR., and ETHAN VAN SCIVER
Cover by BRIAN BOLLAND
On sale NOVEMBER 25 • 368 pg, FC, $24.99 US
Geoff Johns's unforgettable run on THE FLASH begins when Wally West finds himself without super speed in a darker, mirror version of Keystone City. Can a powerless Flash defeat Captain Cold and Mirror Master and save the city he loves? Plus, The Flash is shocked to learn that a strange cult is killing all the people he's ever rescued. Collects THE FLASH #164-176 and THE FLASH: IRON HEIGHTS #1.
Some thoughts: This is almost the same contents as the hardcover Flash by Geoff Johns Omnibus vol.1 that came out in 2011. That book also started with "Wonderland" and "Blood Will Run," ran through #176 and included "Iron Heights," but also included "Flash: Our Worlds at War" and the story from "Flash Secret Files #3." Given the page count, it makes sense to refactor the collections a bit, and this may even be a better place to break it. The Secret Files story works better as build-up to "Crossfire" than as a wrap-up to "Blood Will Run."
Share