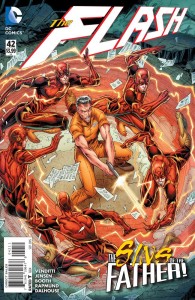 ZOOM is back…and creating all sorts of havoc in the lives of the Allens. Yes, I mean plural…but the connection between Zoom and you-know-who isn't clear quite yet (or if you don't-know-who, check after the jump). What we DO know is that Barry (and others) are making some very tough moral choices, and each one of those choices appears to be setting the stage for significant repercussions. With that in mind, let's get to the review, shall we?
SOME SPOILERS AFTER THE JUMP!
Henry Allen escaped from Iron Heights last issue, but Barry refuses to believe his father is anything but a victim in the breakout. While he tries to get in on the crime scene, Iris West shows up. They talk about Patty, about Wally, and about what the police think of The Flash…and not all of that discussion is positive. Meanwhile…
Henry and his fellow escapees are at a medical supply warehouse, when Zoom intervenes. We see just how fast Zoom can be as he travels almost between thoughts, setting Henry up for even more serious charges than a mere escape. It appears there is a history between them, based on Zoom's comments while he sets Henry up for…you'll need to read the issue for more on that.  Next, we see The Flash tracking down both Girder (great action sequence here) and the insider who helped the prisoners escape. Barry learns of his father's role in the escape…and makes a choice about this insider as well…
…before running into Zoom again! Zoom is obviously taunting Barry, and leads him to a location…that I won't spoil here, but it raises the stakes even further.
There are no easy moral choices in this issue – not for Barry and not for a host of other characters. Bad times are coming, and compromise seems the order of the day, even if those compromises are difficult. Robert Venditti and Van Jensen are giving us a Barry Allen who is watching his world fall apart, and I don't think Barry has hit bottom yet. This makes for a powerful story, and Venditti and Jansen are truly hitting their stride with this arc.
There's plenty of action as well, with exceptional artwork by Brett Booth, Norm Rapmund and Andrew Dalhouse. I especially liked those scenes where Zoom is running between moments, setting the stage for even more havoc – those scenes were handled masterfully.
SUMMARY: The reintroduction of Zoom is making a HUGE impact, and this is well worth a second and even third look. There are a lot of significant moments for Barry, Henry Allen and more…and plenty of excellent action as well. If you have been on the sidelines lately, NOW is the time to get back on board with THE FLASH.
Share