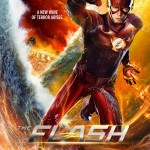 Here's a new poster for this week's episode of The Flash, titled "King Shark". It's obviously meant to evoke a nautical disaster movie, which we'll undoubtedly be seeing in the episode.
And you can see some official stills from it at CBR.
It's apparent that there'll be a break after this week's episode, although I don't know how long the hiatus will last. This week's will be episode fifteen, which leaves eight remaining afterwards. It sounds like the next few won't have a lot to do with Zoom, but I'd imagine they'll be picking up the story arc sometime soon.
Looking forward to the return of King Shark? Feel free to share your thoughts!
Share