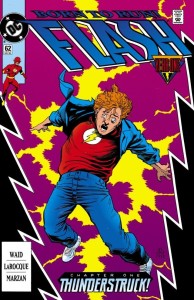 DC Comics has been releasing collections of the Geoff Johns and Morrison/Millar runs on the Wally West Flash series, but the classic stories by Mark Waid have been out of print for years. (They are available digitally, though.) That will FINALLY change toward the end of the year. Lee Hiley spotted an Amazon listing for a paperback collection of Flash by Mark Waid Book One, scheduled for September 13, 2016.
It's clearly just a placeholder — there's no cover, description, or page count, so we can only speculate as to what might be included. The recent Flash By Geoff Johns Book One covered 13 regular issues plus three longer specials, so let's figure on around 15-16 issues' worth.
Flash #62-65: "Born to Run," the four-part retelling of Wally West's origin and his first summer as Kid Flash, is a safe bet.
Flash #66 is an Aquaman quest spot.
Flash #67-68 feature a new take on Abra Kadabra's origin, as the Flash follows him to his home era.
Flash #69-70 and Green Lantern #30-31 have Wally West and Hal Jordan teaming up against Hector Hammond and Gorilla Grodd for "Gorilla Warfare."
Flash #71-72 are a Dr. Alchemy story, looking at what happens when a new villain gets his hands on the Philosopher's Stone.
Flash #73 features Jay Garrick's return to the recurring cast, after the Justice Society was brought back from an editorially-imposed limbo. There's also a Christmas get-together with a surprising guest at the very end of the issue as a cliffhanger.
That's twelve issues (not counting the Green Lantern half of "Gorilla Warfare"), and #74 starts off the epic "Return of Barry Allen" (Flash #74-79). They might add six more issues, but I think it's more likely that they'll stop at #72 or #73 and fit in two annuals:
Flash Annual 4 (1991) is a tie-in to "Armageddon 2001" and looks at a possible future in which Wally West has spent years retired in the Witness Protection Program. When one of his old enemies finds him, they kidnap his son, forcing him out into the open.
Flash Annual 5 (1992) ties into "Eclipso: The Darkness Within." Golden Glider recruits three other Rogues to rob a museum and they all double-cross each other. The gem she wants to steal drags them into the larger story running through that summer's annuals.
Share