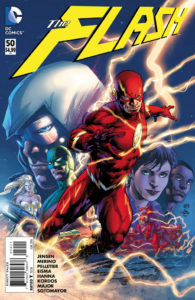 As we left last issue, a mysterious benefactor gave Trickster the means to capture The Flash on behalf of the Rogues, deputized temporarily by the Central City Police Department. They have finally captured the man Captain Frye believes to be a public menace…now what? How can Barry get past this situation? Who is behind all this? You will get at least some of the answers in this over-sized anniversary issue. What to know more? Just follow us after the jump…
SPOILERS AHEAD!
The Flash is under arrest and Trickster looks to be the hero of the day, though he can't seem to explain just how his trick arm is keeping Flash under control. Captain Frye may be satisfied with the situation, but Iris West and Henry Allen have very different ideas. Iris confronts Frye to no avail, but Henry Allen has (as singer Garth Brooks once crooned) "friends in low places" and takes action to save Barry.
How could he do that? Henry calls in a favor from a guard at Iron Heights, and he uses Girder's help to free Barry from Iron Heights. Girder has the idea of bringing in help from Overload…and it works…but it also creates more trouble (we'll come back to that).  Meanwhile…
Trickster meets his benefactor, the Riddler! Riddler reveals that he has Heat Wave in captivity, and Trickster realizes things are not what he had hoped. All Axel really wanted was to prove himself to be as good as the rest of the Rogues, but now…
No chance to change, though – Riddler has rigged Axel's new arm with an explosive device, along with another surprise that we'll see near the end of the issue.
Back to Iron Heights, where Girder's plan to release Barry uses Overload – it works, but Overload then turns on everyone, placing the guards in danger.  The newly freed Flash saves the guards from certain death at the hands of Overload and Frye is confused…the "public menace" Flash could have easily left them to their fates, but as Barry said, "It's what I do." But, after saving everyone, Flash comes up once again against the Rogues.
This time, the Rogues have their act together. Teaming up they injure Flash and are about to capture him. Just then, the drones (the ones that tracked Barry – and Wally – earlier) appear and reconfigure.  They are now set to capture Flash without the Rogues' help. Worse yet, Axel turns on the Rogues, using that special arm the Riddler gave him. The drones are Riddler's creation, and now, Edward Nigma finally reveals himself to the Flash and to Central City!
That's where we leave Barry for now…and we move to a back-up feature for Wally, marking the next significant chapter in his development as Kid Flash. This story brings the New52 origin of Wally West full circle – the future version of Wally that died after becoming the silver-clad Kid Flash is now established as being from an alternate future timeline, just as the Blue Future Barry turned out to be. But, the speed force energy did not go away. "When the lightning touched you (Wally), it became a conduit. The (speed force) energy returned to you, where it belongs."  In other words, Wally now is imbued with the Speed Force, and begins to manifest this in interesting (if a bit prankish) ways.  His use of speed to deal with a bully is funny, but more importantly it gives us a glimpse of the once and future Kid Flash.
NOTES: Van Jensen wrote both stories, with a large and talented group of artists involved in the two stories.  I liked how this issue was handled – all too often, anniversary issues are handled like a high school yearbook, with a lot of fluff but not much plot development. In this case, the story was driven forward effectively without losing sight of the importance of a 50th issue. My one quibble is watching a Batman villain somehow get the best of all the Rogues at one time. As a long time fan of Flash's Rogues Gallery (and always liking the Flash's Rogues more than Batman's bad guys), this bothered me. It's my hope that somehow in this storyline we'll see the Rogues give Nigma his comeuppance.  Other than that, this was an excellent issue. It was great seeing Henry Allen come through for his son, and to see Barry being true to his character in protecting even the guards and officers who so wrongly took him into custody. I'm looking forward to what comes next as we have two more issues before a new direction and creative team step in.
What did YOU think? Leave your comments here!
Share