Created by Mort Weisinger and debuting in More Fun Comics #71 (1941, less than two years after Flash Comics #1), Johnny Quick and his "3X2(9YZ)4A" speed formula enjoyed a 13-year run between More Fun and Adventure Comics. He even outlasted the Jay Garrick Flash, staying in publication in solo stories through 1954. A speedster who occasionally took to the skies, his secret ID of Johnny Chambers was a newsreel photographer.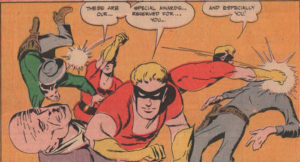 Between 1941 and 1948, the artist behind the majority of Johnny Quick's adventures was Mort Meskin. Sometimes listed as Mort Morton, Jr., Meskin is credited on 57 Johnny Quick stories, according to DCIndexes.com. DC reprinted six of those stories between three issues of the 1956-1985 Flash series, a separate Flash 100-Page Giant, an issue of Most Dangerous Villains, and a 2001 "Millennium Edition" reprint of More Fun #101.
Meskin's portrayal of super-speed has a fluidity and grace that I was not familiar with from the two Golden Age Flash series. An unmistakable energy and powerful composition, matched with a rare depth (he was a master of chiaroscuro) and easy beauty, sets Meskin's speedster art apart. This is not to mention his highly-regarded work outside of Johnny Quick stories, including classics that feature the likes of The Vigilante.
Longtime Flash readers will certainly remember Johnny Quick from his major supporting role during Mark Waid's time writing the series.  Fans of DC Comics from the 1980s will also recognize him from the All-Star Squadron title, which featured stories starring the Justice Society of America and their contemporaries. Prior to that, the character disappeared from new stories for 24 years before returning in 1978's DC Special Series #11 (The Flash Spectacular).
Due to the scarcity of original issues and few reprints, experiencing the Golden Age Johnny Quick has always felt beyond my reach. I'd only read a couple of reprints via collecting Flash and was not familiar with the character beyond his appearances from 1978 onward.
Eisner-nominated comic book artist Sandy Jarrell, who has worked on titles like Batman '66, DC Bombshells and Black Canary, has uploaded seven of Meskin's Johnny Quick stories to his website. They can be viewed at the links below. Between Jarrell's scans and DC reprints, fans can read a little over 20% of Meskin's Johnny Quick work outside of the original issues. Mort Meskin's son Peter has even reached out to Jarrell to thank him for sharing his father's work.
More Fun Comics # 86 (Dec. 1942)
More Fun Comics # 91 (May/June 1943)
More Fun Comics # 92 (July/Aug. 1943)
More Fun Comics # 93 (Sept./Oct. 1943)
More Fun Comics # 94 (Nov./Dec. 1943)
More Fun Comics # 97 (May/June 1944)
More Fun Comics # 102 (March/April 1945)
Also, re-presented for the first time, Jarrell has provided Speed Force with scans of the Johnny Quick story in More Fun Comics #100 (Nov./Dec. 1944)!
Check out this table for a breakdown of all of Meskin's Johnny Quick work! He was inducted into the Will Eisner Hall of Fame in 2013 and you can read Jarrell's comments on that here. You can also check out all of the Mort Meskin stories that Sandy Jarrell has uploaded, JQ and otherwise, here.
Visit MortMeskin.net too, for biographical info and more artwork! There are also two books celebrating Meskin, published by Fantagraphics, Out Of The Shadows and From Shadow To Light.
And last, but certainly not least, is a Johnny Quick piece by Sandy Jarrell himself!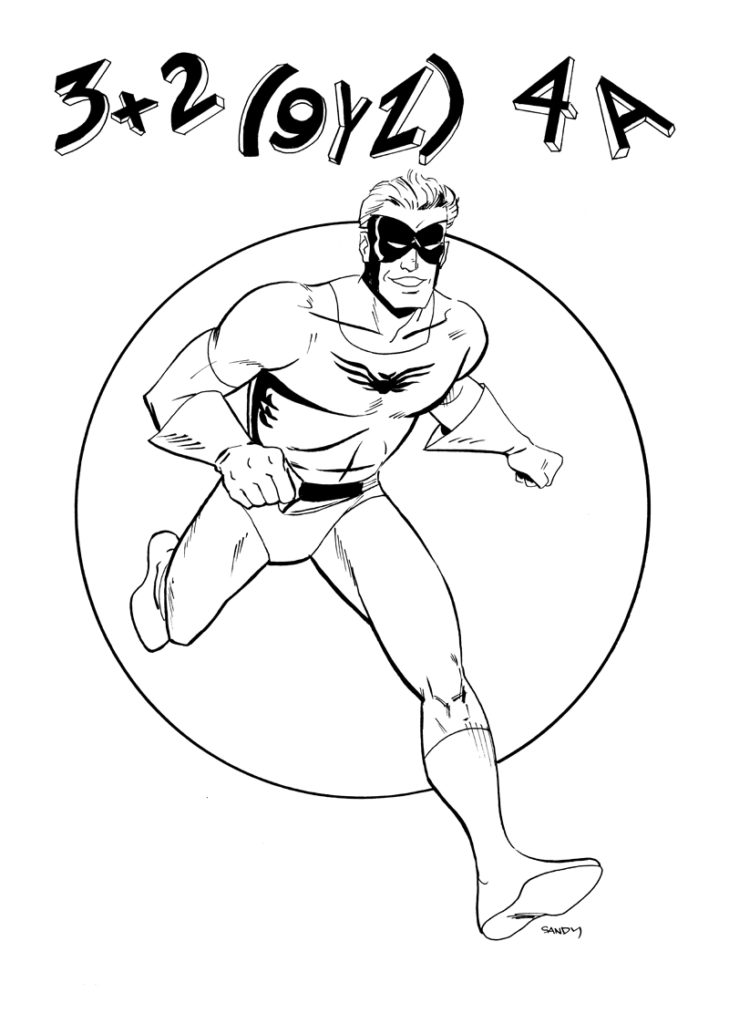 Thanks for reading!
Share