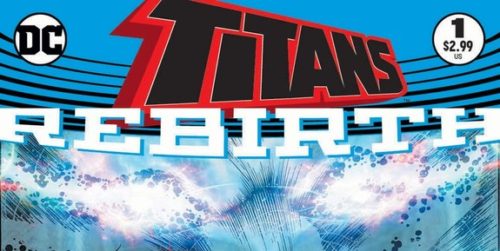 Newsarama has the full cover and description for Titans: Rebirth #1. Flash fans might find this relevant. And spoilery.
.
.
.
.
.
.
.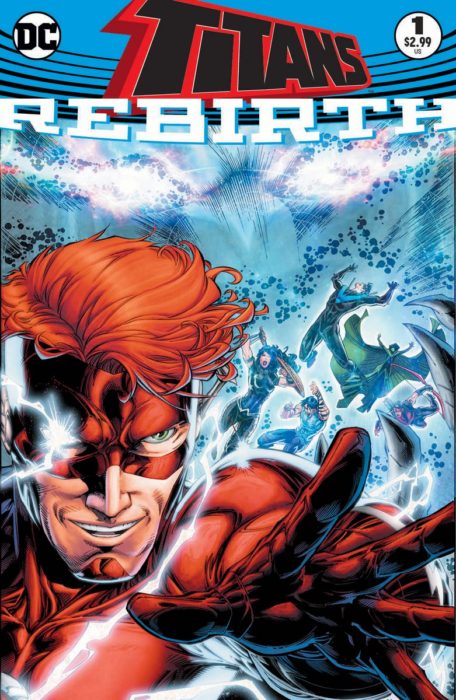 TITANS: REBIRTH #1
Written by DAN ABNETT
Art and cover by BRETT BOOTH and NORM RAPMUND
Variant cover by MIKE CHOI
Friends. Teammates. Titans. Donna Troy, Arsenal, Garth, Lilith and Nightwing were all that and more until a mysterious force erased their memories, forcing them to forget what they could accomplish together. Reunited with their memories returned, the Titans must destroy the interdimensional demon that broke them apart and threatens reality itself.
THEY SAID IT: "Grayson and Donna were a few of the characters I first worked on at DC, so it feels like a homecoming for me," explains penciller Brett Booth. "I'm beyond happy!"
WARNING: Do NOT read this issue until after you read DC UNIVERSE: REBIRTH #1!
One-shot • On sale JUNE 15 • 32 pg, FC, $2.99 US • RATED T
"Lost in the Speed Force until this moment, Wally will rejoin teammates Donna Troy, Arsenal, Garth, Lilith and Nightwing for Titans: Rebirth #1, hitting shelves June 15th," reads DC's press release. "In order to keep the mystery alive, DC solicited a cover featuring Donna Troy, leaving fans to wonder if the lost Titan would ever make a return. But now that Wally has appeared in the pages of DC Universe: Rebirth #1, we can safely say the secret is out!"
There's also an article explaining how they're handling the two Wally Wests going forward. It's a fairly simple explanation that only needs some slight adjustment to the New 52 history:
Wally is Rudy West's son. The newer, younger Wally is Rudy's brother Daniel West's son. Both share an aunt (Rudy and Daniel's sister), Iris West.
Sure, they need to make Daniel a little older for it to work, and the younger Wally had previously been established as Rudy's son, but since we've never seen Rudy in the New 52 (or Wally's mother), it's not a stretch. And probably smaller than a lot of other retcons likely to happen in other parts of the DCU. That's in keeping with Flash history: its generational nature made it possible to weather past reboots like Crisis on Infinite Earths with a lot less retconning than the rest of the DC Universe.
Update: The Beat has a round-up of Rebirth articles with varying degrees of spoilers.
Update: I'm really curious to see the full version of the new costume they're giving Wally. The 2009 Flash: Rebirth costume just wasn't different enough from Barry's classic outfit visually. Barry's New 52 costume has incorporated some elements of it, making them look even more similar. A few years ago I suggested they could take the reboot as an opportunity to adapt the Dark Flash outfit without the emotional baggage of Walter West's story, and that could still work now: Use the body from that costume, the open mask, and make it primarily red instead of primarily black with a hint of red around the edges. That's a costume in line with Wally's personality, and it would stand out (even in plain line art) next to both Barry's Flash outfit and New 52 Wally's Kid Flash outfit.
Share