Yes, Wally West's new costume, which we've known was coming since Ethan Van Sciver said he was designing it last summer, has finally been revealed in Flash: Rebirth #5!
If you don't want to be spoiled, stop now!
SPOILER WARNING!
.
.
.
.
.
WE MEAN IT! SPOILERS!
.
.
.
.
Okay, you were warned!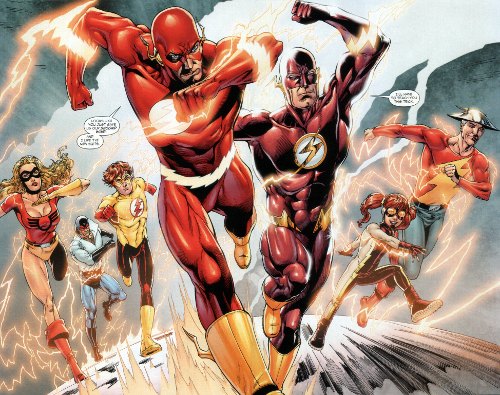 (Sorry about the image quality. I'll replace the cameraphone photo with a scan when I have a chance sometime tonight.)
Update: Ralbalboa has provided a scan of the pages. The color balance is too strongly red, though, so I'm keeping my cameraphone post up so you can see that there actually is a difference between the reds in Barry's and Wally's costumes.
Update 2: I've scanned the double-page spread myself. Now the colors are closer to what they look like in the actual printed comic book, so you can see the difference between the reds in Barry's and Wally's costumes.
Other costumes to note: Liberty Belle is wearing a new Jesse Quick costume that appears to be a women's swimsuit version of her father's Johnny Quick outfit. And as many had speculated, Iris "Irey" West II is the new Impulse.
Now, let's look at those two Flashes in the center again.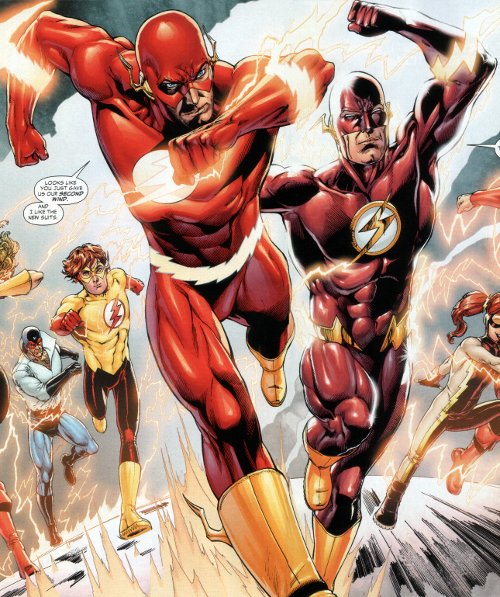 So, we've got the darker color and white eyes from Wally's first costume revamp (Flash vol.2 #50), though it's not shiny. (Well, no shinier than Barry's, anyway.) The straight-across mask line and partial belt from Walter West's outfit. No wings on the boots. The simplified lightning bolt and the yellow border around the circle from the animated Justice League. And, interestingly enough, a 3-D gold look to the trim similar to the Mortal Kombat vs. DC Universe costume. [Edit] Now that I think about it, the 3-D trim goes back to the 1990s TV costume.
I can deal with this. It's still very much a Flash costume, and there are enough differences that, especially with coloring, it should be easy to tell the two of them apart at a glance even in busy fights and crowd scenes. And honestly, if he'd started wearing this at any time in the last ~25 years when he was the primary Flash, I wouldn't have blinked twice. It would have just been the latest in the evolution of the design.
Update: Some thoughts on Jesse Quick and the new Impulse:
Jesse Quick's new costume doesn't look particularly suitable for running, but I like the simplicity of it when compared to the costumes with buckles all over and (in some cases) jackets. It's also nice that it refers back to the original Johnny Quick costume.
At first glance it looked like Irey's Impulse costume was identical to Bart's, but she did make one change: making the borders on the red stripe yellow instead of more red. The lightning-bolt hair clips are a nice touch.
Also: I've finished my review of the issue. Please head over and let me know what you think!
Update 2: I've posted a comparison of various costumes including this one, Wally's 1990s costume, the Dark Flash costume, and the TV costume.
Share