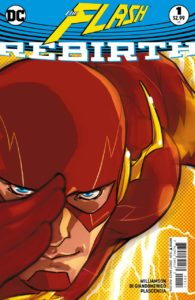 I was already a Joshua Williamson fan from his work on books like GHOSTED and NAILBITER, and I have been looking forward to his first work on my favorite speedster. Turns out, Williamson is a fan of the Flash…and it shows in his work on this first issue. FLASH REBIRTH is a great jumping on point for Barry…and Wally, and it hits a whole list of great points that we will discuss….after the jump!
SPOILERS AHEAD
This review will give some major points, but won't give a scene by scene review, because this book is good enough that you really need to read and enjoy it for yourself.  But, here are some of the big takeaways for me after reading this great issue:
We have a concise retelling of Barry's origin, enough info for new readers to catch up but not too much in terms of page count.  This one hits the Goldilocks standard of "just right"
We get Wally!
We see an expanded version of Wally's return from REBIRTH, with a longer conversation that brings in some key points.
Did I mention we get Wally?
Wally still remembers his marriage to Linda…and apparently remembers that Barry was married to Iris, saying, "Iris is your friend?"
Barry recognizes Wally as more than Kid Flash…as a Flash! This explains the upcoming uniform change in a way that also gives a nod to the fact that Wally was THE Flash prior to FLASHPOINT.
Wally also remembers (and reminds Barry) that both of them can create uniforms out of the Speed Force itself.
Barry and Batman find a mutual respect in terms of investigative abilities…putting the "I" (for investigations) back in "CSI" for Barry. This means we can expect to see Barry's competence in BOTH his roles, and that's a very good thing.
We find that Wally's prior visit to the Batcave coincided with the appearance of the Comedian's button (from WATCHMEN). This means both Barry AND Wally may have critical roles in the overall storyline for the DCU as the WATCHMEN element is woven in.  That means…
Not only is Wally back, but he is already front and center with Barry in the DCU!
Given where we are in the development of the post-New 52 "New Era" DCU, I cannot imagine a better FLASH story. Period. If I sound like a fanboy right now, so be it – this is a GREAT first story for the Josh Williamson era of THE FLASH!
The artwork has a definite indie feel – and as an indie fan I'm fine with the look. The style is a definite break from more recent stories, but at the same time this story is a major break from more recent tales.  That being said, my favorite panel by far was a tribute to the classic Carmine Infantino Barry pose…thank you to another Carmine (Di Giandomenico) for that, along with Ivan Plascencia for the colors.
Just a note – I realize there are Bart fans who are hoping to see more of Barry's grandson…and that may come down the road. Keep in mind that we still haven't put Barry and Iris together, though there is certainly hope for that now.
As for a rating…let's call this one a 10. Can't wait for the new FLASH series!
Share