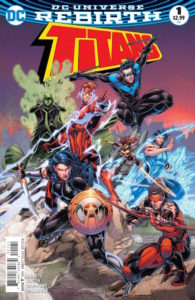 TITANS #1 brings together the original team (plus one) that I first saw in BRAVE AND THE BOLD #60 (an issue I bought waaay back when it first appeared on comic stands in 1965. More to the point, it brings together this team closer to the way most fans remember them as the NEW TITANS. Those days are gone, but so were the memories of their adventures…even their friendships. Now, they are together again, facing their biggest mystery…why? Why did Wally disappear? Why did they forget? We start to get to the bottom of this in TITANS #1! Want to know more? Follow us after the jump!
SPOILERS AHEAD
If there was any doubt that this series would at least start as a Wally-centric book, all doubt is erased in the opening sequence. We get a rundown of Wally's life, both with Barry and with the Titans. Lilith is trying to help Wally get to the secrets, but one name keeps getting in the way. That name?
Linda Park!
Of course Linda Park is uppermost in Wally's mind, and for Wally and Linda fans that's fantastic news. As for Linda herself? She may not have recognized Wally, but she knows there is something about him…something that could be a BIG story, so she sets out to find this "crazy man".
After some very welcome action involving Roy and Donna beating up some bad guys, we come back to Dick Grayson's loft to find Lilith's horrible realization…
…There was something out there…and that something is waking up!
All this leads us to the big bad who made Wally West disappear! And that big bad is a classic Flash villain whose name is…..
SPOILER AHEAD
SPOILER AHEAD
SPOILER AHEAD
SPOILER AHEAD
SPOILER AHEAD
It's Abra Kadabra!
This brings up a LOT of questions! But, it's great to see a classic Flash bad guy at the heart of the first TITANS arc!
NOTES: The only big question here is how Abra Kadabra fits in with REBIRTH, since Wally's disappearance is tied into the mystery of REBIRTH but Kadabra now believes himself to be responsible.  I'm not sure how that will work, but all the REBIRTH talk made this reveal all the more surprising…and that may well turn out to be a very good thing.
Speaking of good things…it was great to see the chemistry returning to the team. This is a group that is just reclaiming their memories, so not everything is back. But, they are quickly rebuilding their trust in each other, and they are already having fun with each other in a way that makes one almost ready to shout TITANS TOGETHER! (Okay, that IS a hokey catch phrase, but still…). That is thanks to Dan Abnett's script.
As for the art, I've been a Brett Booth fan for quite some time, and he nails it here, with the full FLASH art team from Venditti and Jensen's run; Norm Rapmund on inks and Andrew Dalhouse on colors. From action to expression, from interesting page layouts to the huge splash pages, this team did a stellar job.
TITANS #1 is a 10/10!  You want a Wally West book? You've got it! You miss the Titans? They are all well-represented here. You want a 10/10 book? This is it!
Of course, that's my opinion – what's yours? Leave your comments here!
Share