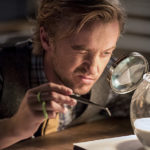 The CW has released the official still images from the second episode of the upcoming season, titled "Paradox". They include our first look at Tom Felton's character, Julian Dorn/Julian Albert, and a nice glimpse at Barry and Jay Garrick together. You can see the full batch of photos at Flash TV News.
Also, CBR has revealed the identity of the villains in the CW's four-series crossover: they'll be the Dominators, the alien race from DC's Invasion! storyline. It's a very ambitious goal, considering the aliens' creepy and inhuman appearance, and showrunner Marc Guggenheim says "We're using cutting-edge prosthetics and computer effects to achieve a feature film-quality look which is faithful to Invasion! artist Todd McFarlane's interpretation of the characters." So it'll be interesting to see how they pull it off. There's no word thus far on what the Dominators will be doing in the episodes, but it'll probably be big.
Excited for the crossover? What do you hope to see in it? How about the meeting between Barry and Earth-3's Jay Garrick? Share your thoughts!
Share