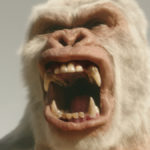 We'll be getting our first good look at Gorilla City next week with Tuesday's episode "Attack on Gorilla City", and the CW has released the first images of Solovar. He obviously looks quite different than his comics incarnation, probably to more easily distinguish him from Grodd and other gorillas. But he looks pretty good in these stills.
He's obviously going to clash with Barry in some way, although it's not yet clear how. The synopsis for the episode says that he's planning to invade Earth-1, but Team Flash gets that information from Grodd, who may not be a truthful source. So we'll probably see the current geo-political situation in Gorilla City during these episodes and find out if it's as we might expect, which may be one of the stranger sentences I've ever written.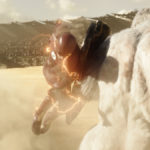 Also, here's the official synopsis for the March 7th episode of The Flash, titled "The Wrath of Savitar".
The Flash 3×15 "The Wrath of Savitar"
SAVITAR VISITS WALLY – While training with Barry (Grant Gustin), Wally (Keiynan Lonsdale) starts to have visions of Savitar, which he hides from the team. A dangerous secret threatens Barry and Iris' (Candice Patton) happiness. Alexandra LaRoche directed the episode written by Andrew Kreisberg & Andrew Wilder (FLA315). Original airdate 3/7/2017.
Looking forward to Solovar and the return of Savitar? What do you hope to see in these episodes? Share your thoughts!
Share