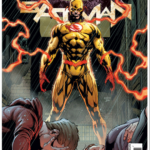 As we already know, there's a Flash–Batman crossover coming in April/May, and Professor Zoom will be involved. Now DC's released the cover from the penultimate issue of the story, Batman #22, which features an interesting lenticular image with Professor Zoom, Flashpoint Batman, and hints at the Watchmen.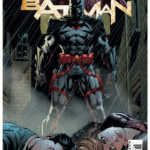 I'm a little bit puzzled why Matha Wayne seems to be dead here, as Flashpoint Martha became that world's Joker, but perhaps history's been changed by the intervention of Doctor Manhattan. Thawne obviously hints at his involvement with the well-known bloodstain on his yellow costume.
Anyway, looks interesting, and the audience will clearly have to figure out what's going on alongside the Flash and Batman. It'll be great to see Professor Zoom up to his old shenanigans.
Share