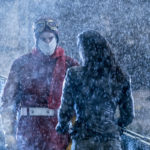 The CW has released the official still images from next week's episode of The Flash, titled "Attack On Central City". In the image above, you can see Accelerated Man (played by Sean Poague), who is the Flash of Earth-19. It seems like he may be assisting Team Flash against Grodd's invasion, and one wonders if he'll be interacting with H.R., who is native to that world. Accelerated Man is from the comics, though he's only appeared in The Multiversity #2 and The Multiversity Guidebook by Grant Morrison. You can see the rest of the stills of Cisco, Gypsy, H.R. and more, at CBR.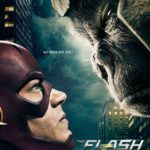 Just for fun, here's the poster created by the CW for "Attack On Central City". You've got to love the pun and that beautifully-rendered image of Grodd.
And finally, here's the official synopsis for the March 14th episode, titled "Into the Speed Force".
The Flash 3×16 "Into the Speed Force": "BARRY TURNS TO THE SPEED FORCE – Desperate to stop Savitar and save his friends, Barry (Grant Gustin) turns to the speed force for answers. H.R. (Tom Cavanagh) gives Jesse (guest star Violett Beane) some advice. Gregory Smith directed the episode written by Brooke Roberts & Judalina Neira (#316)." The Flash season 3 airs Tuesdays at 8PM on the CW. "Into the Speed Force" airs March 14.
Looking forward to more Grodd and the debut of Accelerated Man? Let us know your thoughts!
Share