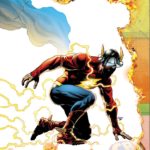 DC has posted the cover for the last issue of the upcoming Flash–Batman crossover, and it's another big one. As reported by CBR, Jay Garrick is apparently back as of Flash #22. This image is part of a lenticular cover by Jason Fabok.
Jay has been in the Earth-2 book since the early days of the post-Flashpoint era, where he'd been youthfully de-aged and was no longer the elder statesman readers had become so familiar with. But that series ends next month, and people had been hoping he'd return to the main DCU. It's not clear what version of Jay we'll be seeing in the upcoming crossover, but his uniform (and helmet!) is much more reminiscent of pre-Flashpoint Jay than the one in the Earth-2 book.
Looking forward to the return of Jay? What do you hope to see done with him, and potentially with the JSA? Share your thoughts!
Share