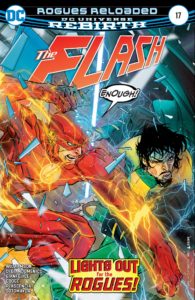 Captain Cold appears to have The Flash just where he wants him. Len Snart's ability to take apart and reverse engineer technology has just been taken up a notch, and the Rogues may finally be able to defeat their long-time nemesis. What comes next? A truly excellent issue of THE FLASH, that's what! Want to know more? Follow us after the jump!
SPOILERS AHEAD
Snart has used some of Black Zero's technology to take his cold gun into new and uncharted territory. This gun can now tap into the Speed Force itself! Of course, Len cannot stop yapping even during a battle, and we get his view of life…and his view of the Flash's motivation in being a hero. It's a great scene…but in the end Flash gets out of the way of the gun, only to be recaptured by Glider. THIS is where we get a reintroduction to the Rogues' code against killing…as it is tested to the limit!
Without giving away how that battle ends, we will skip ahead to the Flash's inevitable-but-still-good win, and move to one last twist, as the Rogues are back in prison life. You think you can keep a good Snart down? We may be witnessing the start of something even bigger for Captain Cold as…
Read the issue for that one – but it sets up Cold and the rest of the Rogues to be even more formidable that before!
SUMMARY: With this arc, writer Joshua Williamson has effectively reintroduced the Rogues to the REBIRTH continuity…and he has made them respectable as foes of the Flash. Yes, the Flash will win…it's his book after all…but the Rogues are once again a tough out for the Scarlet Speedster. I'm looking forward to the next time we see my favorite group of bad guys take on The Flash again! The artwork is once again excellent, thanks to Carmine Di Giandomenico, Davide Gianfelice and Neil googe, with colors by Ivan Plascencia and Chris Sotomayor. I'll give this one a 10/10 – what's your opinion? Leave your comments below!
Share