DC's full solicitations for May won't be out for a while, but Newsarama has a preview of several issues, and one of them is Flash #23. You may recall that we've already seen solicits for Flash #22, which is the issue due out in the first half of May.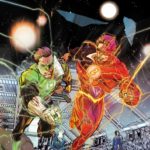 THE FLASH #23
Written by JOSHUA WILLIAMSON • Art and covers by CARMINE DI GIANDOMENICO • Variant cover by HOWARD PORTER
"RUNNING SCARED" prelude! Barry Allen is at a crossroads. He's lied to the woman he loves about his life as The Flash, and a rift is growing between him and his heroic young partner. Now, his greatest enemy has threatened to strike down everyone close to him! It's time to make a tough choice that will launch The Flash into his most incredible mission yet: a siege on the 25th century stronghold of Eobard Thawne!
On sale MAY 24 • 32 pg, FC, $2.99 US • RATED T
This seems to suggest that we will indeed be seeing Professor Zoom during the Flash-Batman crossover, so it's interesting to get a bit more information about that.
Share