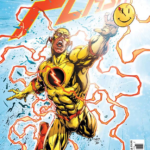 As we've seen, there will be a four-issue Flash-Batman crossover in late April and early May, taking place over Flash and Batman #21-22. Now DC has released the cover for Flash #21, which features the apparent return of Professor Zoom, who may be the "unwelcome third party" from the issue solicitation. The time aspect of the mystery does suggest he'd get involved at some point, but it's interesting to see what appears to be a pre-Flashpoint version of him. At the very least, he's not wearing his New 52-era costume.
"The Button": Two greatest detectives in the DC Universe unite to unravel the mystery behind a certain blood stained smiley face button stuck in the Batcave wall. However, what begins as a simple investigation soon turns deadly when the secrets of the button prove irresistible to an unwelcome third party — and it's not who anyone suspects! This is a mystery woven throughout time, and the countdown starts here!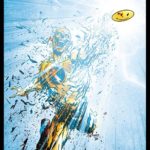 There's another similar image of Professor Zoom as well, which I presume is part of a lenticular cover. Either way, it suggests that something sinister is going on, and that Thawne may regret getting into it. Hopefully there will be more details about the crossover soon, including confirmation or denial that the Reverse Flash will be part of the story.
Share