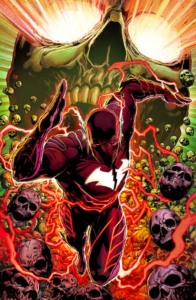 The DCU has introduced an entire separate multiverse…one full of nightmare versions of our favorite heroes. What happens when the Batman of one of those worlds decides to steal the Speed Force for himself? That's what we see as the regular FLASH team of Josh WIlliamson, Carmine Di Giandomenico and Ivan Plascencia take on this METAL tie-in. There is a lot more here than meets the first glance…and if you want to know more just follow us after the jump!
SPOILERS AHEAD!
We are learning more about the nature of the Dark Multiverse in this issue. It's full of worlds created from "every fear, each bad decision", a whole multiverse of horrific "What if?" stories that are now fighting to survive. None of these worlds in the Dark Multiverse are meant to survive for long, even with their versions of the DCU heroes fighting to keep the worst from happening.
Enter one terrible version of Batman. He's stolen all the Rogues' gear and upgraded them…all in an effort to capture that world's version of Barry. Even in a horrific version of Central City, this Barry Allen is still a beacon of hope…but that can't save him. Batman is determined to steal Barry's link to the Speed Force, and to use it to save his world.
This version of Batman is being manipulated by the big bad of the METAL event, though an intermediary we've seen already. Nothing can stand in his way…and he succeeds in gaining super speed. But, there is a strange twist to this…
With a "Firestorm"-like twist, Barry and Bruce now inhabit the same body. They are fighting for control, but Bruce has his way more often than not Bruce is using his new powers to kill…and he's getting ready for more. The message Bruce received that sent him over the edge was that he could save his world…"even if it means the destruction of another." He's ready to go…and that brings him to the main DCU, labeled "Earth-0. First World of the Muliverse". I guess "Earth Prime" and "Earth 1" were already taken, so here we are…
This new amalgam of the Red Death arrives and threatens both Iris and Wally…taking away Wally's speed and decaying his body. Iris' hands get the same effect when she tries to defend her nephew. Our world's Barry arrive to fight, but the strange bats that Red Death controls are sapping his speed as well…
…and that would be it except for the intervention of Doctor Fate, who whisks Barry away to safety.  This leads us back to the rest of the METAL storyline, and of course to other tie-ins as well.
NOTES: If anyone was going to write and draw this tie-in, we have the right team. I loved that Williamson kept the other world's Barry as a beacon of hope, even in the middle of a nightmare version of the main DC Earth. It was a bit jarring to see Captain Cold's specs on Batman's cowl, but for the storyline it worked (although I wonder what he could see through his own cowl and the slits in those specs as well…just sayin').  This was excellent as a tie-in story – and I mean that as  high compliment. So many tie-ins just jam a few pre-planned plot points into regular continuity without considering the consequences…not this one. When we come back to what is now called Earth-0, it all still fits in well.  And, to be perfectly honest, I liked this story better than what I've read so far of the main METAL arc. I'll give this one a 9/10 – what do YOU think? Leave your comments below!
Share