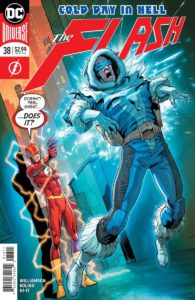 Our favorite speedster has been drawn into a trap by the Rogues, with help from August Heart aka Godspeed. Stuck in an absolute zero environment, Barry cannot access his speed to defend himself against Len Snart's brutal attack. Things are looking pretty rough for The Flash in an arc that re-establishes the Rogues as the baddest group of bad guys around.  So, how can Barry get out of this one? To find out more, follow us after the jump!
SPOILERS AHEAD!
As the beatdown continues, Snart can't help telling Barry about their plans for Copperhead. All those cold guns they sold to Copperhead's gang are set to explode, taking out the only competition the Rogues believe they have in Central City.
And that's where the fun begins.
August has been waiting to hear what the real plan is…and now he jumps into action, turning off the absolute cold environment and letting Barry get his speed back. Of course Flash makes short work of the Rogues, in a great splash page by artist Scott Kolins. As that gets sorted out we find:
August regrets his actions as Godspeed, and didn't take his opportunity to escape. He wants forgiveness but doesn't believe he deserves it, at least not yet.
Barry realizes he's been in a different sort of prison, one of his own making. It's time to make a few things right…more on that in a minute.
Meanwhile, Kid Flash has gone after those cold guns and risks his life to save Copperhead…not because Copperhead was good, but because Kid Flash is a real hero. Glad to see that.  Of course, Barry arrives just in time to save them both.
Copperhead eludes trouble for now…and meets with the mysterious person who really is the crime boss of Central City.
Kristen uses this opportunity to get in with Warden Wolfe, while continuing to report her findings to Singh (this should make for some interesting subplots moving forward)
Snart is found to be the actual person who killed Turbine, and is shipped to…Belle Reve!
And Barry decides to try to make things right with none other than…Iris West!
Barry has realized that he is looking for that second chance in life…and with Iris. Whether he gets that chance any time soon is left up to future issues, but this was a great note to end the "Cold Day In Hell" arc.
SUMMARY: This has been a great arc by writer Joshua Williamson. I've enjoyed everything Williamson has thrown at us since taking over THE FLASH, adding new characters to the mythos and revitalizing the Rogues as in this arc (in fact we get a bit of both here with the return of both Godspeed and the Rogues).  I'm also glad that the ending isn't quite so nice and tidy.  Not everything is back to normal…and that's just fine here. We have the potential for a LOT of great stories spilling out of this arc, and this reviewer is looking forward to whatever 2018 holds for The Flash.  I'll give this one a 9/10 – what do YOU think? Leave your comments below!
Share