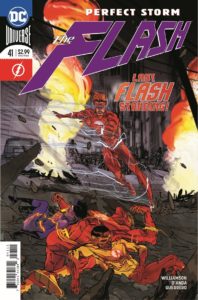 Barry has lost his connection to the Speed Force and all his super-speed thanks to Grodd. Central City is still stuck in one single moment, with no one able to move while Grodd's plan comes to fruition. Can Grodd take all the Speed Force for himself? Not if Wally…and Wally, and Avery have anything to say about it! And what about Barry's next move? Want to know more? Follow us after the jump!
SPOILERS AHEAD!
Grodd has the upper hand, but without that lightning wand he can't complete his task to steal all of the Speed Force and supposedly cure the disease that is slowly killing him.  But, this issue has very little of the most fearsome ape in comics…it's mostly about the speedsters.
Avery and young Wally are putting Barry through tests to find out what has happened to him. Almost all of the Speed Force is indeed gone – there is just enough left to keep Barry from being stuck in time with all the other citizens of Central City, but that's about it. That doesn't keep him from trying to direct the efforts of all the other speedsters, though…even grown-up Wally, who has arrived to help save Central City.
Barry is tortured by Grodd's revelation of last issue – that without his powers, Barry truly believes he is nothing. Absolutely nothing. That is playing out big time in this issue, as Barry's desperation is pushing away all his friends. You want to see the seeds of FLASH WAR? Looks like some of the distrust that will play out later is beginning here.
No one really listens to Barry right now. Young Wally and Avery run toward Meena, hoping that they can turn her from adversary to ally once again. What could possibly go wrong? Grown-up Wally goes to evacuate the city…but when he gets to his Aunt Iris, Black Hole springs a trap!
Meanwhile, Barry has taken the lightning wand to the one person left who may be willing and able to help him get his speed back…
…
…
…
Godspeed!
NOTES: I have a feeling we will be looking back to this issue sometime down the road with some "aha" moments. There aren't a lot of big reveals here (other than seeing Godspeed at the end), and there aren't a lot of huge movements in the overall plot. But, there are a LOT of setups for future plot points, and for that reason we will be grabbing this as a back issue very soon as Josh Williamson continues the arc.  I'm a bit worried about how angsty Barry is right now, though I have a feeling that will resolve before too long (or else will go into full blown rage as he gets his powers back and we hit FLASH WAR). But, this is a solid issue for what it sets out to accomplish. I liked the artwork in this issue – lots of interesting page layouts, some intriguing choices of color, and just the right mix of digital effects to denote speed. That's thanks to Carlos D'Anda, with colors by Luis Guerrero. Overall I'll give this issue an 8/10 – but that my opinion. What do YOU think? Leave your comments below!
Share