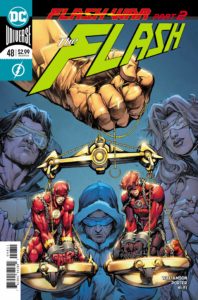 The best part of "Flash War" to me is also what makes the REBIRTH era so much fun – we are finally recognizing everything in the rich history of the DCU. Most especially here, we are seeing the best of both Barry's Silver Age time and Wally's era as the lead Flash as well.  While a lot of fans are picking #TeamBarry or #TeamWally, you really don't have to pick a side to enjoy THIS ride. We are in the middle of what could well be the most significant story arc since before the New52 began, and that's exceptionally good news! Want to know more? Follow us after the jump!
SPOILERS AHEAD!
Without giving everything away, here are some of the important moments in FLASH #48:
Wally finally remembers fully his family, including Irey and Jai. He knows what he has lost, and the realization is almost more than he can handle. He lashes out at Hunter, but soon rides an emotional roller coaster all the way into a confrontation with Barry.
Barry, Iris and young Wallace are with the Renegades…and they soon realize they have been tricked.  They find the previously "destroyed" evidence that proves Iris' innocence, and they know that Hunter has been playing them.  But, they are stopped from taking him in, and the story continues.
Wally isn't sure who to believe or trust, but the overriding emotion is to get his family back no matter the cost. He is even willing to "break" the Speed Force to get them back…and that puts him at odds with Barry.
That effort may lead to disaster for the time line that they (and we) are watching…and…
…all that leads up to what should be the REAL battle (or at least the real race) in FLASH WAR!
On the way, we still see LOTS of Easter Eggs in the form of past speedsters whose names may not be mentioned yet…but who may yet appear when all is said and done.
NOTES:
I've been a big fan of Josh Williamson's time on THE FLASH. But, he is topping that effort here, absolutely nailing it with this script. This is already a classic story…and I cannot wait to see what is coming up next.  Bravo!
Speaking of nailing it, Howard Porter's artwork (with colors by Hi-Fi) is absolutely fantastic! Everything from the action to the expressions are spot-on, and I could not ask for more in this issue.
SUMMARY:  I'll give this one a 10/10 – that's my opinion, so what do YOU think? Leave your comments below!
Share