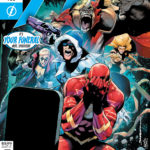 DC has posted five preview pages for next week's issue of The Flash, and you can view them at DC's own blog. In the preview, we see some surprising recruitment for the new Reverse-Flash Family, and Barry deals with the shocking fallout of last issue's ending. Check it out at the link!
THE FLASH #756
written by JOSHUA WILLIAMSON
art by CHRISTIAN DUCE
cover by RAFA SANDOVAL and JORDI TARRAGONA
card stock variant cover by DANIEL WARREN JOHNSON
At last—the Flash is free of Paradox, but that freedom came at a great cost. For years, the Reverse-Flash has wanted Barry Allen to suffer, but he's always been defeated by the Flash Family! Now the Reverse-Flash is going to build his own family to help him get the revenge he demands! This issue kicks off a new, epic story that will force the Flash into what may be his final race!
ON SALE 05.27.20
$3.99 US | 32 PAGES
CARD STOCK VARIANT COVER $4.99 US
FC | DC
This issue will ship with two covers.
Please see the order form for details.
Share