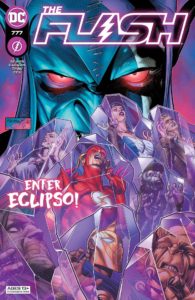 We are at triple 7s in the issue number for THE FLASH, but luck does not seem to be on Wally West's side. Wally and Doctor Fate have made it through to Gemworld, but have they made it in time? This issue continues a story with a classic villain, one who is in danger of becoming supremely powerful. They might be able to stop Eclipso – if they could just catch up to him! Wanna know more? Follow us after the jump!
SOME SPOILERS AHEAD!
Just the highlights here:
Flash and Fate have arrived in Gemworld to meet other Mystical members of the DCU. No time to rest, though, because they have to get away from a Crystalyrm – an immense worm-like creature controlled by Eclipso.
As Wally deals with that creature, the team gets closer to where they believe Eclipso is going. To get anywhere closer, though, they need help from one of Amethyst's biggest foes, Dark Opal.
As they get to where they believe Eclipso is headed, the question is – why here?  It's a mystery, except to the one person who seems immune to Eclipso's influence. That would be Wally West, of course!
Wally can figure out what all the mystics could not. Not that it does any good, because that's the moment Eclipso takes control of all his teammates, turning them against our Flash!
In a separate story thread, Jai and Irey are settling in to a new school. It's easier for Irey, but her choice of friends appears to have her headed for trouble. As for Jai – he's still dealing with losing his powers. But, he certainly knows how to hold Irey's poor choices over her head. Sibling rivalry and all that. We'll see more of how that turns out soon.
NOTES:
Jeremy Adams continues to give us the Wally West we know and love. There are nods to Wally's TITANS days, along with the bit of science he's picked up from Barry, and that's cool. But the main thing is that THIS is the Wally West fans have been looking for since the New 52 took him away. Thank you Jeremy Adams!
This book is also proving that you can have serious danger in a series without going grimdark. It's refreshing and fun and I'm having a great time keeping up with this arc.
The artwork is exceptional here. One of the great challenges in a single-hero series is drawing all the guest heroes – and this team nails it on a consistent basis. That's Fernando Pasarin and Matt Ryan on pencils/inks, Jeromy Cox on colors, and Rob Leigh on letters. Great job all around!
SUMMARY:
This issue continues a great story arc, building us up to what should be a terrific battle next issue. The side story thread with Linda and the kids is a lot of fun as well. Overall, another great issue! I'll give this a 8/10 – but of course that's just my opinion. What do YOU think? Leave your comments below!
Share