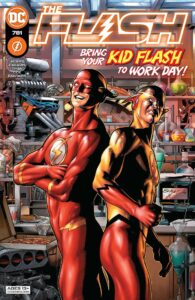 Did you like Wally as Kid Flash? You'll get that here! Like Wallace even better? You'll get him too! It's the start of an adventure that gives great respect to BOTH versions of Kid Flash, as we get ready for a brand new story arc. Wanna know more? Follow us after the jump!
SPOILERS AHEAD!
Wallace is in Titans Academy with none other than Roy Harper (!) as the substitute teacher. It's time for a math test, but Wally has other ideas. In perfect Wally style, he gets Wallace to head out with him for a grand tour of the Western Hemisphere, all the way down to Argentina. That's where The Flash is called "Flush Man" (Google "Flush Man Argentina" as the comic suggests. You'll be glad you did).
This leads to a more serious talk. Barry Allen is missing, and out of contact with both Wally and Wallace. Right now, Wallace is feeling more than a little down and left out, so Wally shares some of his early adventures with Barry.
Barry didn't let Wally do a lot at first, either. But, Wally eventually started sneaking out on his own, saving people all over the world. When Barry discovers this, he realizes that he can't do everything by himself. And, that's when the best part of their time together begins, as partners.
And now, Wally is asking the same thing of Wallace. Even the Fastest Man Alive can't be everywhere at once. And, Wally needs some down time for his family. As Wallace agrees, they start a tour of the globe, including Skartaris!

UPDATE AND CORRECTION: I was reading the digital copy and thought it ended there when writing the review. It gets even better – ending in Chicago with someone who should have been in Iron Heights!
NOTES:
Ever since Wallace West showed up in the New 52, I've been hoping for a story like this. Much respect is given to both Wally and Wallace. And, Wallace is getting the chance to shine in the main FLASH title. The personalities worked exceptionally well – I can believe in the friendly ribbing and the back and forth between the two. Well done!
SUMMARY:
An excellent script by Jeremy Adams and wonderful artwork by Fernando Pasarin (pencils), Matt Ryan (inks), Jeromy Cox and Peter Pantazis (colors) and Rob Leigh (letters). This was a 10/10 for me. Of course, that's just my opinion. What do YOU think? Leave your comments below!
Share