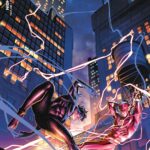 DC has posted several preview pages from next week's issue of Nightwing, which you can see at Adventures In Poor Taste. The issue continues with last month's team-up between Dick Grayson and Wally West, because various people are trying to kill Nightwing and Wally's helping out his friend.
The preview features Wally and Dick vs KGBeast and his goons, as part of yet another attempt on Dick's life. Check it out at the link!
NIGHTWING #91
Written by TOM TAYLOR
Art and cover by BRUNO REDONDO
Variant cover by JAMAL CAMPBELL
1:25 variant cover by SERG ACUNA
$3.99 US | 32 pages | Variant $4.99 US (card stock)
ON SALE 4/19/22
Trying to save a city that's even more beyond saving than Gotham is no small task, and even someone like Nightwing needs a day off to relax with his best friend and to recharge—but when your best friend is Wally West, a.k.a. the Flash, a "recharge" might not end up being so relaxing!
Share