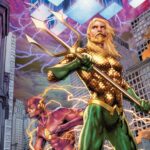 DC has posted some preview pages from a new Flash team-up miniseries which begins next week, and you can see them at Adventures In Poor Taste. The preview features the ominous approach of the aliens which drive the story, as well as a lighter scene of Barry battling the Rogues. Check it out at the link!
AQUAMAN & THE FLASH: VOIDSONG #1
Written by JACKSON LANZING and COLLIN KELLY
Art by VASCO GEORGIEV
Cover by JAY ANACLETO
Variant cover by VASCO GEORGIEV
$6.99 US | 56 pages | 1 of 3 | Prestige
ON SALE 6/21/22
They descend suddenly from the stars, in monumental ships like floating cathedrals. They are touched by a dark and terrible force from beyond our reality, silent but for the one note they emit that freezes all motion. Their mission: to drain the Earth of all its kinetic energy and leave it a lifeless husk. They never expected anyone could escape their song—but the Flash was in the Speed Force when they struck, and Aquaman was in the deepest ravine far below the ocean's floor. These heroes have little in common. They've rarely even fought side by side without their fellow Justice League members. Now they must find a way to work together against impossible odds to save the world and the people they love.
Share