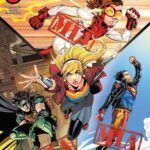 DC has posted several preview pages from next week's Dark Crisis series starring Young Justice, and you can see them at Adventures In Poor Taste. The preview features Young Justice mourning the Justice League alongside the rest of the surviving heroes…and then something unexpected happens. Check it out at the link.
DARK CRISIS: YOUNG JUSTICE #1
Written by MEGHAN FITZMARTIN
Art by LAURA BRAGA
Cover by MAX DUNBAR
Variant cover by TODD NAUCK
$3.99 US | 32 pages | 1 of 6 | Variant $4.99 US (card stock)
ON SALE 6/21/22
Crises have always had devastating impacts on the generation of heroes that make up Young Justice, and Dark Crisis will hit them even harder. Tim Drake, Impulse, and Superboy go missing during the Justice League's funeral. The only person concerned enough to find them? Cassie Sandsmark, a.k.a Wonder Girl. But…the three boys of Young Justice aren't on this Earth anymore…they're on the world of their dreams, one they may never want to leave!
Share