DC has posted their full complement of solicitations for June 2023, and here are all the ones relating to the Flash. It's actually a month of Flash variant covers, as the movie is out in June and there are film variants sprinkled through DC's line. Plus, Flash #800 is out that month, which is the final issue before the series is relaunched with new renumbering in September. It features multiple writers and artists, and also has a ton of variant covers.
You can see the solicits in full — including all those variants — at Adventures In Poor Taste.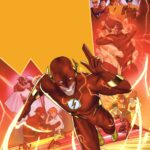 THE FLASH #800
Written by JEREMY ADAMS, MARK WAID, JOSHUA WILLIAMSON, GEOFF JOHNS, and SIMON SPURRIER
Art by FERNANDO PASARIN & OCLAIR ALBERT, TODD NAUCK, CARMINE DI GIANDOMENICO, SCOTT KOLINS, and MIKE DEODATO JR.
Cover by TAURIN CLARKE
Variant covers by MICHAEL CHO, JEFF DEKAL, SIMONE DI MEO, DAVID NAKAYAMA, and OTTO SCHMIDT
Special foil variant cover by FRANCIS MANAPUL ($6.99 US)
1:25 variant cover by JAVIER RODRIGUEZ
1:50 variant cover by MATT TAYLOR
The Flash movie variant cover by JONBOY MEYERS
$4.99 US | 48 pages | Variant $5.99 US (card stock)
ON SALE 6/6/23
An oversize anniversary issue concludes writer Jeremy Adams's acclaimed tenure, with special guests Mark Waid, Joshua Williamson, and Geoff Johns joining the celebration! As the Adams run races to the finish line, get a prelude to the new Dawn of DC chapter of the Fastest Man Alive's adventures from the dream team of Simon Spurrier (Coda, Detective Comics) and Mike Deodato Jr. (Avengers)!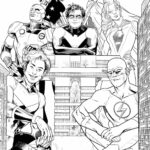 TITANS #2
Written by TOM TAYLOR
Art and cover by NICOLA SCOTT
Variant covers by JEN BARTEL and CLAY MANN
1:25 variant cover by EVAN "DOC" SHANER
1:50 variant cover by NICOLA SCOTT
Swimsuit variant cover by JOE QUINONES
The Flash movie variant cover by EDWIN GALMON
$3.99 US | 32 pages | Variant $4.99 US (card stock)
ON SALE 6/20/23
A Titan is murdered!
Will the new era for the Titans end almost as soon as it's begun? After one of their own is found dead, the remaining Titans must look for answers before more blood spills. Can they outrun the horrible fate they've been dealt? Plus, a new Brother Blood rises as the team begins to fall apart!
JUSTICE SOCIETY OF AMERICA #7
Written by GEOFF JOHNS
Art and cover by MIKEL JANIN
Variant cover by YANICK PAQUETTE
1:25 variant cover by DEMETRIUS DAWKINS
$3.99 US | 32 pages | Variant $4.99 US (card stock)
ON SALE 6/27/23
Reunions are cut short when the JSA and the Lost Children to face down a new threat! Can this group of heroes and sidekicks find their rhythm or will it be curtains for both. What happens here has massive ramifications for the next stage of THE NEW GOLDEN AGE!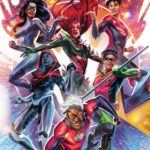 DC PRIDE 2023 #1
Written by GRANT MORRISON, NICOLE MAINES, CHRISTOPHER CANTWELL, NADIA SHAMMAS, and others!
Art by HAYDEN SHERMAN, PAULINA GANUCHEAU, STEPHEN SADOWSKI, SKYLAR PATRDIGE, MILDRED LOUIS, and others!
Cover by MATEUS MANHANINI
Wraparound variant cover by GABRIEL PICOLO
Variant cover by OSCAR VEGA
Special foil variant cover by JEN BARTEL ($11.99 US)
$9.99 US | 104 pages | One-shot | Prestige | (all covers are card stock)
ON SALE 5/30/23
DC Pride is back again with a brave and bold and all-new collection of stories starring DC's fan-favorite stable of LGBTQIA+ characters—many of whom will find themselves in thrilling team-ups the likes of which you've never seen before!
Harley Quinn and Poison Ivy go to extreme measures to get a little alone time…but there's nowhere on the planet Crush can't crash! Jon Kent gets a comprehensive course in dark magic when John Constantine sics a golem on him. Tim Drake and Connor Hawke learn that there's nothing more awkward than reuniting with an old friend after you've both come out and one of you was indoctrinated by the League of Shadows for a while. Circuit Breaker struggles to stifle his powers after the Flash of Earth-11 leaps out of the time stream and knocks them both into another dimension. Just how far would Flashlight go to honor his lost love? All these stories and many more in DC Pride 2023!
This year's anthology also includes:
• An introduction by Phil Jimenez!
• A 5-page preview of Dreamer's YA debut written by Nicole Maines and drawn by Rye Hickman!
• A parade of pinups by Babs Tarr, Maria Llovet, Brandt & Stein, Noah Dao, Travis G. Moore, and more!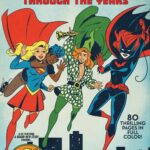 DC PRIDE: THROUGH THE YEARS #1
Written by GREG RUCKA, WILLIAM MESSNER-LOEBS, STEVE ORLANDO, VITA AYALA, and TIM SHERIDAN
Art by J.H. WILLIAMS III, GREG LaROCQUE, JAMAL CAMPBELL, and CIAN TORMEY
Cover by DEREK CHARM
$9.99 US | 80 pages | One-shot | Prestige
ON SALE 6/13/23
Take a journey through over 30 years of fan-favorite LGBTQIA+ characters in the DC Universe with this collection that not only remembers and celebrates three landmark issues of days past but also teases exciting new stories yet to come!
DC Pride: Through the Years collects:
• The Flash #53 (1991), in which villain-turned-hero Pied Piper comes out to his friend the Flash and helps thwart a dastardly villain
• Detective Comics #854 (2009), the thrilling beginning of Batwoman's first solo series, which would launch her into stardom
• Supergirl #19 (2018), which tells the story of Lee Serano—a nonbinary teenager who befriends the Girl of Steel
• An all-new story starring Alan Scott, which will light the way to his next great adventure as Green Lantern!
MULTIVERSITY: HARLEY SCREWS UP THE DCU #4
Written by FRANK TIERI
Art by LOGAN FAERBER
Cover by AMANDA CONNER
Variant cover by MEGHAN HETRICK
1:25 variant by TRAVIS MERCER
$4.99 US | 32 pages | 4 of 6 | Variant $5.99 US (card stock)
ON SALE 6/13/23
How can Harley stop herself from screwing up the timeline if her future self has already screwed it all up? First she discovered she totally stopped Superman and the Flash from ever existing, and now she's finding out that she totally time-traveled right over Wonder Woman's and Aquaman's origins too! Harley has to stop Harley, or at least try to put the pieces of the DCU she's broken back together again. With a time machine and a tough, scary, alternate-universe Harley at her side, maybe—just maybe—she can make things right again.
Share