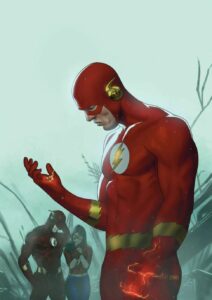 "The One-Minute War" is nearing its conclusion – just one chapter to go after this issue. This arc has been fantastic from the beginning, and this issue may just be the best so far. The Flash Family (or what's left of it) continues their battle against near-impossible odds, and the tension rises with every page. But, it's that last page that should have the attention of every Wally West fan…for reasons we cannot discuss on this side of the jump. Wanna know more? Follow us after the jump!
SPOILERS AHEAD!
There is a liberal use of flashbacks in this issue (no pun intended). But, it is easy to follow, so no worries there. Here's part of what we find:
Irey has her new uni to go with her Thunderheart code name. It's a great takeoff on the Flash theme, and it gets us away from having two Impulse costumes. I'll take that as a win for both characters.
Jesse switches to her other code name of Liberty Belle – they need more than speed from Jesse, they need her strength and she knows it.
Barry has a plan to super-charge that spire and send The Fraction back in time to undo this attack. It requires the Flash Family to run in unison…
…and we see a new use of the "friction cushion" that protects DC speedsters. Running together makes that into a shield, and it keeps them safe while Jesse literally punches through the wall
Jay Garrick joins the fight at one point, but by issue's end things are looking tough for the Flash Family.
Of course there is a lot more…but let's move to the last page…
HERE'S WHERE IT GETS HISTORIC – DON'T MISS THAT LAST PAGE! MAJOR SPOILER AHEAD!
…..
….
….
At the end of this issue, we find that Wally is still alive (not the big spoiler, hang in there). But, as he wakes up, Wally sees Gold Beetle, who has taken over Timepoint (more on that in a moment) and has renamed it "Planet Flash" (wait for it, major spoiler coming up in 3…2…1…)
…..
And Planet Flash is populated by…
…
EVERY PERSON WE THOUGHT HAD DIED IN HEROES IN CRISIS! All here, all alive!
…along with a couple of characters that may have come from Wally's earlier redemption storyline…
You read that right. Now, the rehabilitation of Wally is truly, once and for all, complete. Wally did NOT kill anyone that day, even by accident.
NOTES:
Let's talk Timepoint for a moment. This place (if you want to call it a place) first appeared (according to DC.Fandom Wiki) in 1999 in Hourman #3.  This was the series about the future, android version of Hourman. It lies outside the normal space-time continuum.
Gold Beetle apparently pulled everyone out of the normal timeline and into Timepoint/Planet Flash just before they would have died. They are all safe, here, at least for now.

(Yes, that leaves a plothole about the bodies we saw in HEROES IN CRISIS…but I choose not to worry about that. They are alive, Wally didn't kill anyone, no need for him to carry that burden anymore, that's good enough for me.
ONE MORE NOTE:
Jeremy Adams has given us more than a fantastic run on THE FLASH. Adams has given us Wally West back. The Wally West fans have known and loved for so long. We have gotten Linda and the kids back. We've gotten the joy of this character back. This last splash page brings everything full circle…and this old reviewer cannot thank Jeremy Adams enough.
SUMMARY:
Another amazing issue – and this one is a 10/10 for this reviewer. Of course, that's just my opinion. What do YOU think? Leave your comments below!
Share