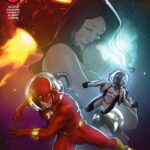 DC has posted several preview pages from next week's issue of The Flash, and you can see them at Adventures In Poor Taste. The preview features the newest member of the West family — who we've already seen older in the "One-Minute War" — and Terrifitech launches an ill-advised experiment. Check it out at the link!
THE FLASH #798
Written by JEREMY ADAMS
Art by FERNANDO PASARIN and OCLAIR ALBERT
Cover by TAURIN CLARKE
Variant cover by MIKE PERKINS and MIKE SPICER
Variant cover by ETHAN YOUNG
1:25 variant cover by SERG ACUÑA
1:50 foil variant cover by TAURIN CLARKE
$3.99 US | 32 pages | $4.99 US (card stock)
ON SALE 5/2/23
Tragedy befalls the West family, which uncovers a mystery that will take our favorite
red-headed hero beyond time and space! Mister Terrific joins Wally along with a few
surprise guests to help him on a mission to save the Flash Family!
Share